NEW ALBUM LOVING IN STEREO OUT AUGUST 13 VIA AWAL NORTH AMERICAN TOUR DATES CONFIRMED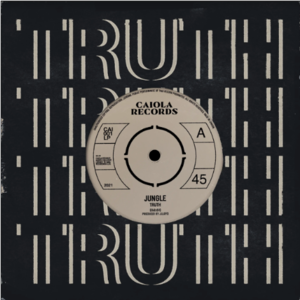 LOVING IN STEREO TRACKLIST
1. Dry Your Tears
2. Keep Moving
3. All Of The Time
4. Romeo (featuring Bas)
5. Lifting You
6. Bonnie Hill
7. Fire
8. Talk About It
9. No Rules
10. Truth
11. What D'You Know About Me?
12. Just Fly, Don't Worry
13. Goodbye My Love (featuring Priya Ragu)
14. Can't Stop The Stars
Photo credit: Filmawi
"…an exuberant, nostalgic mash of falsetto funk harmonies,
disco grooves and eccentric electropop textures."
"… cinematic blend of synths and strings that swim effortlessly beneath Jungle's euphoric group vocals…"
July 28, 2021—"
Truth
," the latest track from British songwriting and production duo 
Jungle
, debuts today accompanied by an official music video; listen to/share the song 
HERE
 and watch/share the video 
HERE
. Premiering as a "First Play" on Annie Mac's Radio 1 Show, this uplifting track appears on the duo's highly anticipated new album, 
Loving In Stereo
, 
which is set for release 
August 13 
via 
AWAL
.
Jungle's co-founder Tom McFarland states, "'Truth' is another moment on the record which came very quickly and naturally. It was the most different sounding thing we had made at the time and for that reason couldn't ignore it. For us it's about youth, love, and trust. The feeling of finding someone who means more than anything else in the world."
Jungle directed the video for "Truth" alongside longtime collaborator and creative partner Charlie Di Placido, the fourth entry in a larger project to create a visual identity for every track on the forthcoming album. In pursuit of this aim, Jungle filmed all the visuals in five days, shooting roughly three videos a day.
Jungle's previously released singles "
Keep Moving
," "
Talk About It
" and "
Romeo
" featuring 
Bas
 continue to receive praise; 
Billboard
 proclaims "'Keep Moving' is a funky, feel-good disco-soul sermon with its almost gospel-choir-like chorus and stirring strings," while 
FLOOD Magazine
 declares "'Keep Moving' is…a groovy, disco-influenced remedy for gloomy days." 
URPOXX
 furthers, "The song's funky production emphasizes Bas' jaunty flow as he spits verses about embracing that which he can't control."
As Loving In Stereo is an album that embodies what's sure to be a summer of social liberation, it's fitting that Jungle are experiencing something similar. Lifelong friends J&T are embracing the new-found freedom of launching their own label for the first time, a decision that has initiated a creative rebirth. They've ditched the external influences, put commercial considerations on the backburner and avoided second-guessing what people expect from them. Instead, they've taken their music back to their roots, to a time when they could make whatever music they liked without overthinking it. The album's themes exude positivity: new beginnings, new love and fighting back against the odds.
"When we write music there's hope," says the other half of Jungle Josh Lloyd-Watson. "Maybe today we'll create something that influences people and changes the way they feel. If you can make something that lifts people, that's an amazing feeling."
Loving In Stereo was recorded at J&T's own studio as well as The Church Studios. The album features songwriting contributions from Inflo—a Mercury Prize and Ivor Novello Award winner for his work with Michael Kiwanuka and Little Simz—as well as vocal contributions from Dreamville rapper Bas and rising star Priya Ragu, which marks the duo's first feature collaborations.
In support of the forthcoming album, Jungle has confirmed an extensive run of worldwide tour dates. Adding to their already vibrant live shows, the duo will create the feeling of stepping into a Jungle video shoot by amplifying the focus on their choreography and visual aesthetics. The run of North American dates kicks off in Boston on October 3 and includes shows at DC's Anthem, Chicago's The Riviera Theatre and Philadelphia's The Fillmore as well as multiple performances at Los Angeles' Greek Theatre and Brooklyn's Avant Gardner. See below for the full tour routing.
Jungle was founded by J&T, who met at the age of 10 in West London's Shepherd's Bush. They began making music together at the beginning of 2013, choosing to put the aesthetic emphasis on the music's surrounding artwork/videos rather than on their own identities.
Jungle's 2014 self-titled debut album was a Mercury Prize nominee and is now Gold-certified, while their 2018 follow-up, For Ever, peaked at #10 on the UK Albums Chart. Their two records have since amassed over 750,000 equivalent album sales and nearly a billion streams worldwide. They've performed on five continents, headlining venues both stateside and abroad while performing at major music festivals such as Glastonbury, Coachella, Bonnaroo and Lollapalooza. Jungle has appeared on "The Late Show with Stephen Colbert," "Jimmy Kimmel Live!" and "Ellen."
JUNGLE LIVE
September 1-4, 2021––London, UK––O2 Academy Brixton
September 17, 2021––Manchester, UK––O2 Victoria Warehouse
October 3, 2021––Boston, MA––Big Night Live
October 4, 2021––Washington, DC––The Anthem
October 5, 2021––Philadelphia, PA––The Fillmore
October 7, 2021––Brooklyn, NY––Great Hall at Avant Gardner
October 8, 2021––Brooklyn, NY––Great Hall at Avant Gardner
October 9, 2021––Montreal, QC––Mtelus
October 10, 2021––Montreal, QC––Mtelus
October 12, 2021––Toronto, ON––Queen Elizabeth Theatre
October 15, 2021––Detroit, MI––The Majestic Detroit
October 16, 2021––Chicago, IL––The Riviera Theatre
October 17, 2021––St Paul, MN––The Palace Theatre
October 19, 2021––Denver, CO––Mission Ballroom
October 22, 2021––Seattle, WA––Paramount Theatre
October 23, 2021––Portland, OR––Crystal Ballroom
October 26, 2021––Oakland, CA––Fox Theater
October 27, 2021––Oakland, CA––Fox Theater
October 28, 2021––Los Angeles, CA––Greek Theatre
October 29, 2021––Los Angeles, CA––Greek Theatre
January 27, 2022––Paris, France––Le Zénith Paris-La Villette
January 28, 2022––Köln, Germany––Live Music Hall
January 29, 2022––Brussels, Belgium––Forest National
January 31-February 1, 2022––Amsterdam, Netherlands––Paradiso
February 3, 2022––Hamburg, Germany––Große Freiheit 36
February 4, 2022––Berlin, Germany––Huxleys Neue Welt
Bold––Sold Out
Follow us on twitter: @emmreport,@daddyspalace,@bestallstars,@theferrisbee
instagram @emmreport
Check out: www.loyalfans.com/emmreport
---