Award-Winning Director Bree Mills Serves as Executive Producer of New Studio
(Montreal, QC / September 14, 2021) — Alpha Studio Group (ASG) announces the launch of premium cinema brand Disruptive Films. Developed by Bree Mills in association with Gamma Films Group, the new studio aims to offer the most original lineup of premium films and series in the gay market, combining award-winning directors, cinematic storytelling and male performers in roles like you've never seen before.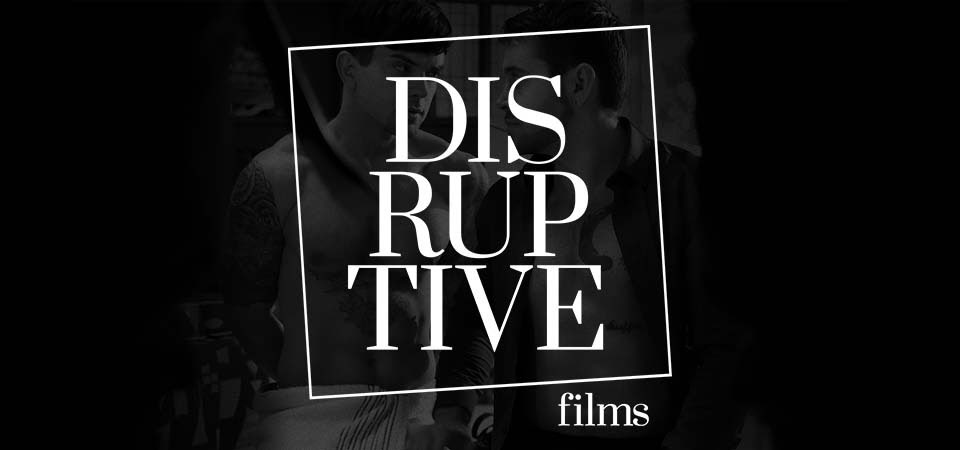 "With Disruptive, we combined Gamma's history in award-winning storytelling and cinematic filmmaking with the knowledge and experience of Alpha Studio Group's production team to create a truly unique product," said Mills, who also serves as Chief Creative Officer of Adult Time, the popular streaming platform for adults.
"This has been my dream studio for a long time; I believe that gay porn fans are ready for a brand that will push the envelope when it comes to erotic storytelling, and that the incredible male actors in our industry are ready for a production that will show off their range!"
Mills joins forces with other creative talent from across the adult industry to produce Disruptive's lineup, which includes Walden Woods, Conrad Parker, mr. Pam, Matthew Lynn and Michael Vegas, and the new site will offer a combination of recurring series, feature films and pilot concepts, with weekly releases ranging from realistic and relatable dramas to gripping psychological thrillers, near-future science fiction and creative original pilots.
"When I was asked to work for a new and upcoming studio, 'Disruptive Films', I immediately said yes, but wasn't sure what to expect," said Roman Todd. "Once on set, I realized that this was not going to be your normal studio scene. I was completely blown away with the time and effort that was put into the whole production.
"I felt like I was on a movie set, not on a porn set. And Bree Mills, who is an incredibly talented writer, definitely has changed the whole game when it comes to producing pornography. Having the opportunity to film with this studio has definitely been the highlight of my 12 years in porn. I cannot wait to be back on set filming for this amazing studio once again! "
The studio launch will also unveil The Last Course, Disruptive's first feature film starring Johnny Ford, Michael Del Ray, Michael Boston, Jim Fit, Chris Damned, Dakota Payne, Dante Colle, Brandon Anderson, Cameron Dallile, Trevor Harris, Johnny Hunter, and Lucy Hart, in her final performance as Lance Hart.
"It's been such a pleasure so far working with Disruptive Films!" enthused Dante Colle. "Between the quality of the film, the dense intriguing storylines and the amazing crew, it really makes me feel some importance with the projects I do with them. I really think films like this is what the gay side of porn has always deserved!"
Michael Boston also expressed enthusiasm for his role in this exciting new project: "I love working for Disruptive Films; it's not just about the sex, it's also about trying to portray an actual story. Been a good and interesting time each time I've worked with them!"
Disruptive Films membership packages will be offered at an introductory rate until October 1st in celebration of the launch. A curated Disruptive Films channel will also be available to Adult Time subscribers with a selection of episodes directed by Mills.
Trailers, banners, and other promotional materials are available through BuddyProfits.com, with direct questions to 
affiliates@buddyprofits.com
.
About Disruptive Films
Launched in 2021, DISRUPTIVE FILMS is a brand new studio dedicated to offering the most original gay porn movies and series available today. Our premium lineup of films and original series combine award-winning creative talent, cinematic techniques, compelling stories, and men in acting and sex performances like you've never seen before.  Created in collaboration by Bree Mills, Gamma Films Group, and Alpha Studio Group, the production arm behind such iconic gay brands as Next Door Entertainment, Pride Studios, and Active Duty.
For more information, please visit:
Follow on Twitter & Instagram:
@filmsdisruptive
@thebreemills
@adulttimecom
About Adult Time:
Launched in 2018, Adult Time is a streaming service exclusively for adults.  Created by award-winning filmmaker Bree Mills, who also serves as Chief Creative Officer, Adult Time is a platform built by fans who believe in a future where mature audiences can safely, securely, and proudly have a place in their lineup for premium adult content.
Dubbed the 'Netflix of Porn' by mainstream media outlets, Adult Time offers an extensive catalog of more than 300 channels, 57,000 episodes and 8 new releases per day from some of the most recognized studios, including Girlsway, Pure Taboo, Burning Angel, Fantasy Massage, 21 Sextury, and Vivid Entertainment, alongside exclusive original series, feature films, and much more.
For more information, please visit:
Follow us on twitter: @emmreport,
instagram @emmreport
Check out: www.loyalfans.com/emmreport