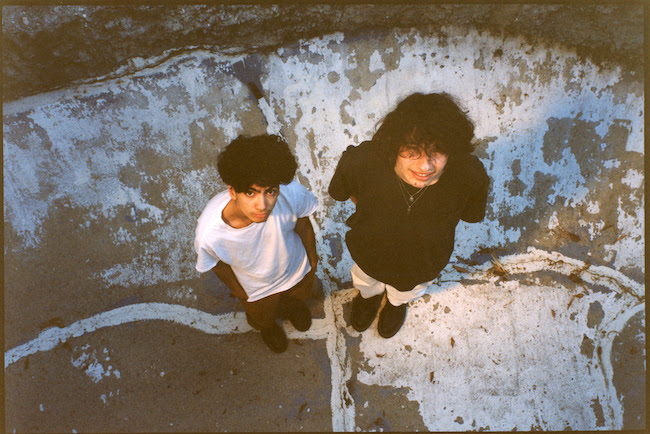 Photo credit: Aidan Cullen
October 6, 2021—Emerging superstars
glaive
and
ericdoa
debut their collaborative EP
then i'll be happy
today; listen
HERE
. The project features previously shared tracks "
cloak n dagger
" and "
fuck this town
," with
Vulture
praising the former as "buoyant, hooky, and endlessly listenable."
The duo is playing a sold-out run of very special dates this fall with stops including New York, Chicago and Los Angeles.
"then i'll be happy was made over the last year and was recorded in everything from a studio to a tiny Airbnb bedroom. I'm lucky to have found such a great collaborator and friend in Eric and love what we made together," says glaive. Eric adds: "The process of making this project was great because I got to experience new places and new people. I got to grow up alongside somebody who is also growing up, who is also my best friend. Ash and I are going up this year and I'm glad we have each other to lean on during this crazy time for both of us."
ericdoa grew up in a small town in Connecticut, and like many of his close friends and collaborators whom he met via Discord and Twitter, he taught himself to record and produce music online, letting the sounds of the "raw ass pop artists" like Rick James, Earth Wind & Fire and Teena Marie he was exposed to growing up meld with the music he discovered himself. He introduced himself with last year's
COA
, which
Pitchfork
hailed a
s
"thrilling
.
" Meanwhile,
Lyrical Lemonade
claimed, "The 18-year-old Connecticut native has built a reputation as an absolute golden child of this scene in a variety of ways
.
" Most recently, eric shared two singles, "
fantasize
" which led to the cover of
Spotify's Anti-Pop Playlist
and garnered recognition from
Ones To Watch
who praised it as a "
breakout moment"
and "
contender for song of the summer
," along with "
back n forth
," which received major support from
Rolling Stone
and
Paper Magazine
,
who praised him as the next "major pop music disruptor."
glaive is an artist from the mountains of North Carolina who began making music at the beginning of the Covid-19 pandemic, releasing his first song on Soundcloud in April 2020. His rise in the year since has been meteoric, supported by a steady stream of new music that has quickly earned him acclaim and a devoted following. He shared his debut EP 
cypress grove
last fall, with 
The FADER
 naming the single "
astrid
" one of the best song songs of 2020 and 
The New York Times
' Jon Caramanica including it among his 
top tracks of the year
. His second EP 
all dogs go to heaven
received critical acclaim upon release this past August, with 
The New Yorker
 praising its "startlingly well-formed sound" and 
Rolling Stone
 citing standout single "i wanna slam my head against the wall" as "a good example of everything there is to like about glaive."
glaive and ericdoa—then i'll be happy
1. naturale

2. mental anguish

3. heather

4. pretending

5. physs

6. handle me

7. cloak n dagger

8. fuck this town


EP artwork
glaive and ericdoa live
Center Stage Theater—Atlanta, GA—October 15
Baby's All Right—Brooklyn, NY—October 16
Mercury Lounge—New York, NY—October 17
Schubas—Chicago, IL—October 30
Schubas—Chicago, IL—October 31
The Roxy Theatre—Los Angeles, CA—November 5
Brick & Mortar Music Hall—San Francisco, CA—November 6
Follow us on twitter: @emmreport
instagram @emmreport
Check out: www.loyalfans.com/emmreport