Mad Cow Disease Confirmed In California Dairy Cow, USDA Says
The USDA has confirmed that a case of mad cow disease was found in a California dairy cow. It is the fourth case of mad cow, or bovine spongiform encephalopathy (BSE), found in U.S. cattle since the first in December 2003.
USDA Chief Veterinary Officer John Clifford said Tuesday afternoon that the cow did not enter the human food chain and that all U.S. meat and dairy supplies are safe. Further mitigating the risk to the public, milk does not transmit BSE.
According to the USDA, the animal's carcass is being held under state authority at a California rendering facility and will be destroyed. "It was never presented for slaughter for human consumption, so at no time presented a risk to the food supply or human health," Clifford said.
Dr. William Schaffner, chair of preventive medicine at Vanderbilt University, told ABC News that it was unlikely any more cows would contract BSE. "Mad cow occurs in animals as it does in humans — rarely and sporadically. At this point, I would not expect there to be another cow to be found," he said.
The animal tested positive for a case of "atypical" BSE, "a very rare form of the disease not generally associated with an animal consuming infected feed," the USDA said.
The Associated Press reports:
"There is really no cause for alarm here with regard to this animal," Clifford told reporters at a hastily convened press conference.Clifford did not say when the disease was discovered or exactly where the cow was raised. He said the cow was at a rendering plant in Central California when the case was discovered through regular USDA sample testing.

Mad cow disease, or bovine spongiform encephalopathy (BSE), can be fatal to humans who eat tainted beef. The World Health Organization has said that tests show that humans cannot be infected by drinking milk from BSE-infected animals.

The disease is always fatal in cattle, however. There have been three confirmed cases of BSE in the United states, in a Canadian-born cow in 2003 in Washington state, in 2005 in Texas and in 2006 in Alabama.

In people, eating meat contaminated with BSE is linked to variant Creutzfeldt-Jakob Disease, a rare and deadly nerve disease. A massive outbreak of mad cow disease in the United Kingdom that peaked in 1993 was blamed for the deaths of 180,000 cattle and more than 150 people.

There have been a handful of cases of variant Creutzfeldt-Jakob Disease confirmed in people living in the United States, but those were linked to meat products in the United Kingdom and Saudi Arabia, according to the Centers for Disease Control and Prevention.
The USDA said that they have begun notifying authorities at the World Organization for Animal Health (OIE) as well as U.S. trading partners. The USDA does not expect the detection of mad cow to affect U.S. beef exports.
The Wall Street Journal, however, notes the possible trade repercussions:
Analysts said the biggest risk to the beef market from a confirmed case would be if large international beef customers such as Japan and South Korea were to impose a temporary ban, but they said that new bans were unlikely if the animal was kept out of the food chain.
CNN's Elizabeth Cohen reports that it takes about 15 years for a human to show signs of mad cow disease. Therefore, once a person exhibits signs of the disease, it is way too late to take the meat out of the food system. "If even one person ate U.S. meat and got sick from mad cow disease, it would just be devastating," she says.
The National Cattlemen's Beef Association released a statement Tuesday afternoon (read the full statement below), concluding, "The bottom line remains the same – all U.S. beef is safe." "The U.S. beef community has collaborated with and worked with animal health experts and government to put in place multiple interlocking safeguards over the past two decades to prevent BSE from taking hold in the United States," the organization said.
Cattle futures on the Chicago Mercantile Exchange fell the exchange limit of 3 cents (2.6%) Tuesday afternoon to $1.11575 a pound, the lowest level since July.
Flip through the slideshow below for the history of mad cow incidences in the U.S. since the first case in December 2003:
(Story continues below)
December 2003: First U.S. Case Of Mad Cow Disease
1  of  6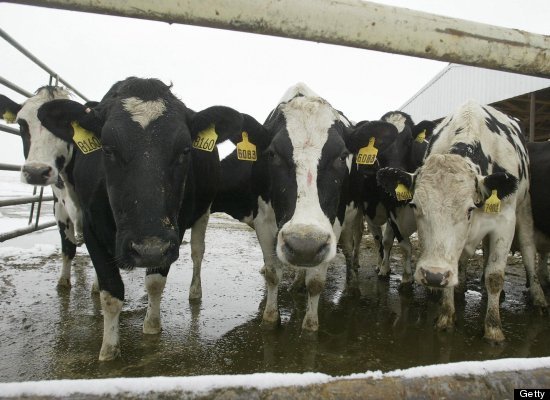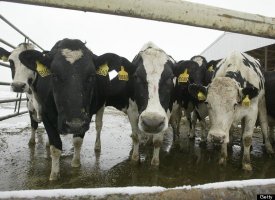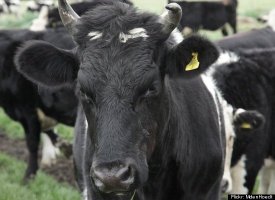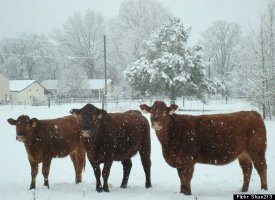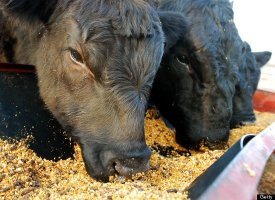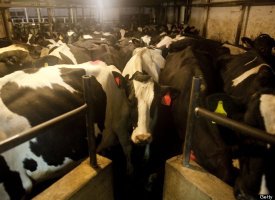 Read (or watch below) the full statement from the USDA on the discovery of mad cow disease in California:
"As part of our targeted surveillance system, the U.S. Department of Agriculture's (USDA) Animal and Plant Health Inspection Service (APHIS) has confirmed the nation's fourth case of bovine spongiform encephalopathy (BSE) in a dairy cow from central California. The carcass of the animal is being held under State authority at a rendering facility in California and will be destroyed. It was never presented for slaughter for human consumption, so at no time presented a risk to the food supply or human health. Additionally, milk does not transmit BSE."The United States has had longstanding interlocking safeguards to protect human and animal health against BSE. For public health, these measures include the USDA ban on specified risk materials, or SRMs, from the food supply. SRMs are parts of the animal that are most likely to contain the BSE agent if it is present in an animal. USDA also bans all nonambulatory (sometimes called "downer") cattle from entering the human food chain. For animal health, the Food and Drug Administration (FDA) ban on ruminant material in cattle feed prevents the spread of the disease in the cattle herd.

"Evidence shows that our systems and safeguards to prevent BSE are working, as are similar actions taken by countries around the world. In 2011, there were only 29 worldwide cases of BSE, a dramatic decline and 99% reduction since the peak in 1992 of 37,311 cases. This is directly attributable to the impact and effectiveness of feed bans as a primary control measure for the disease.

"Samples from the animal in question were tested at USDA's National Veterinary Services Laboratories in Ames, Iowa. Confirmatory results using immunohistochemistry and western blot tests confirmed the animal was positive for atypical BSE, a very rare form of the disease not generally associated with an animal consuming infected feed.

"We are sharing our laboratory results with international animal health reference laboratories in Canada and England, which have official World Animal Health (OIE) reference labs. These labs have extensive experience diagnosing atypical BSE and will review our confirmation of this form of the disease. In addition, we will be conducting a comprehensive epidemiological investigation in conjunction with California animal and public health officials and the FDA.

"BSE is a progressive neurological disease among cattle that is always fatal. It belongs to a family of diseases known as transmissible spongiform encephalopathies. Affected animals may display nervousness or aggression, abnormal posture, difficulty in coordination and rising, decreased milk production, or loss of body weight despite continued appetite.

"This detection in no way affects the United States' BSE status as determined by the OIE. The United States has in place all of the elements of a system that OIE has determined ensures that beef and beef products are safe for human consumption: a mammalian feed ban, removal of specified risk materials, and vigorous surveillance. Consequently, this detection should not affect U.S. trade.

"USDA remains confident in the health of the national herd and the safety of beef and dairy products. As the epidemiological investigation progresses, USDA will continue to communicate findings in a timely and transparent manner."
The
full statement from the National Cattlemen's Beef Association
:
WASHINGTON – National Cattlemen's Beef Association Cattle Health and Well-being Committee Chairman Tom Talbot issued the following statement regarding the U.S. Department of Agriculture's (USDA) confirmation of an atypical case of bovine spongiform encephalopathy (BSE) in a dairy cow in central California."USDA confirmed this afternoon a positive test result as part of its targeted surveillance program to test cattle for BSE. USDA has confirmed this dairy animal was discovered at a rendering facility and was never presented for human consumption and poses zero risk to human health. The bottom line remains the same – all U.S. beef is safe.

"America's cattle producers' top priority is raising healthy cattle. As such, the U.S. beef community has collaborated with and worked with animal health experts and government to put in place multiple interlocking safeguards over the past two decades to prevent BSE from taking hold in the United States. This effort was recognized in May 2007 when the World Organization for Animal Health (OIE), the leading international body for animal health, formally classified the United States as a controlled risk country for BSE. The controlled risk classification recognizes that U.S. regulatory controls are effective and that U.S fresh beef and beef products from cattle of all ages are safe and can be safely traded due to our interlocking safeguards.

"USDA's ongoing BSE surveillance program tests approximately 40,000 high-risk cattle annually, bringing the total of tested animals to more than 1 million since the program began. BSE is fast approaching eradication worldwide. According to USDA, there were only 29 cases of BSE worldwide in 2011, which is a 99 percent reduction since the peak in 1992 of more than 37,300 cases.
"We commend USDA and animal health experts for effectively identifying and eliminating the potential risks associated with BSE."

source: http://www.huffingtonpost.com