The First Taste From Debut EP,
Coming Soon From Salem, Mass-Based Artist
See The Video For "Guilty Hands (I Bleed)"
HERE
Previous Single Amassed 2 Million Streams,
Babychaos Named Metal Artist of The Year At
2022 Boston Music Awards
Single Art For "Guilty Hands (I Bleed)"
Babychaos lives at the intersection of haunting music and bewitching art, with the latest crossroads coming in the form of her brand-new single "Guilty Hands (I Bleed)." It's the first taste of the emerging industrial pop artist's debut EP, which will be released soon and shows the artist at her prime, after amassing 2 million streams for previous single "Flesh" and nabbing the honor of Metal Artist of the Year at the 2022 Boston Music Awards.
Read more about the track on
Consequence
who says of the song, "In the vein of contemporaries such as Poppy,
Babychaos
blends harsh electronics with overt industrial rock/metal elements, such as distorted guitars and vocals. … 'Guilty Hands (I Bleed)' melds a burgeoning guitar riff with subtle electronic flourishes, resulting in a jolting loud-soft arrangement and unsettling atmospherics."
Consequenc
premiered the video as part of the outlet's
Industrial Week.
Says Babychaos of the song, "The story behind 'Guilty Hands' is one I've been clinging onto for years – and now it's finally come to fruition and is out of my system for good. Throughout 2022 I found myself constantly writing as a way to cope with occurrences in my life I couldn't control. I've found through experience that when we feel we don't have control over an aspect of our lives, we resort to a need to control other aspects, sometimes in unexpected and disturbing ways: That was the inspiration for this track and video. Thanks to music producer Enrico Tiberi we created the complex beast of this song taking influence from European metal, American hard rock and horror movie-worthy soundscapes. And with music video producer Joey Durango we were able to bring these visuals to life."
The gothic femme fatale, who hails from the witchiest of places, Salem, Massachusetts, has already cultivated a strong fanbase online, in particular TikTok, where her alluring image and appreciation for visuals led to a feature in Inked magazine though her recent foray into heavier music – inspired by a mix of Deftones and Evanescence – promises to turn more heads.
Babychaos is a self-taught pianist and songwriter whose style combines the harsh electronic tones and distorted guitar of industrial metal with a vocal and songwriting sensibility that aims for big pop hooks. More details on her debut EP will be released soon.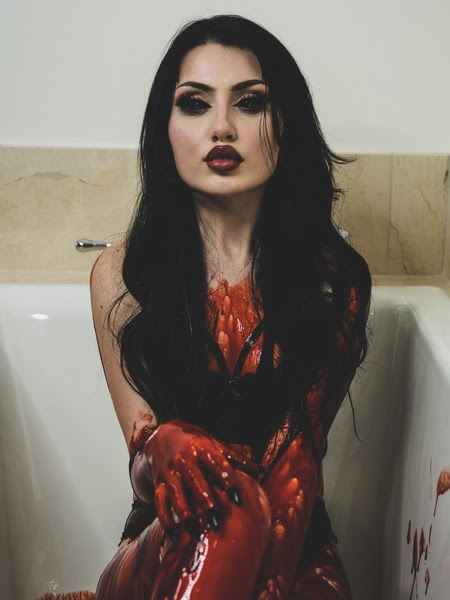 (photo credit: Josh Bronto)
Find Babychaos Online