A – 'Ovule feat. Shygirl (Sega Bodega Remix)'
AA – 'Atopos (Sideproject Remix)'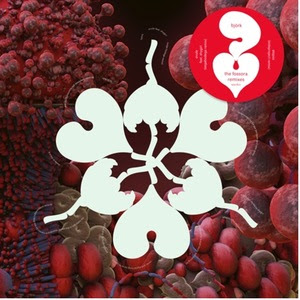 For Record Store Day 2023, Björk will release a double A-side 12" of her recent remixes by Sega Bodega (feat. Shygirl) and sideproject. The reversible two image sleeve features Nick Knight and Vidar Logi imagery with black metallic hotfoil lettering designed by M/M Paris and crystal-clear vinyl.
'ovule ft. Shygirl (Sega Bodega remix)' emphasises the track's majestic percussive elements, Sega Bodega described making it as, "kind of a full circle moment, for me at least. The three of us had an evening of all listening to music we loved at Shy's place last year and after absorbing that the remix came together pretty quickly – we like things fast".
Björk also collaborated with sideproject when producing some of the beats on 'fossora' which they followed with a remix of 'atopos', saying that "it was an absolute pleasure to work on. We had a great time putting our own spin on the soundscape of atopos and we are really happy with the outcome. Thank you so much Björk. takk fyrir okkur".
"i am so grateful to the incredible icelandic electronic group sideproject, they make me excited about reykjavik music and not worry : the future is fertile!" says Bjork.  "it has been so nourishing sharing music with shy and sega …. soooo honoured to be in their hands !! and in this remix admiring sega exploring chill-bassdrum-gabba and a thrill seeing shy diving into my lyrics and taking it to a new place… and seeing them perform it live in london was humbling …. grrrrratitudes !!"
The original versions are taken from her Grammy-nominated album 'fossora' (named as one of The New York Times' and Pitchfork's Albums of the Year) which came out last September.
Björk is a multidisciplinary artist who, time and again, innovates across music, art, fashion and technology. From writing, arranging and producing an expansive music catalogue to her collaborations with scientists, app developers, writers, inventors, musicians and instrument makers, Björk continues to inspire and experiment, redefining the boundaries of what it means to be a musician.
About Sega Bodega
Producer, performer and label head Sega Bodega has established an otherworldly production style that's marked him as a pioneer within the alternative and electronic spaces. Alongside the release of solo albums ('Salvador', 2020; 'Romeo', 2021), he has also been a crucial creative hand in countless projects over the past decade including the A&R and development of artists under his NUXXE label; acclaimed production for artists including Caroline Polachek (latest single 'Sunset'), Oklou, Shygirl and Zebra Katz; and his ever more groundbreaking solo work, the latest of which is single 'Kepko'. As part of NUXXE, Bodega has been featured in Dazed 100, a list of the most influential artists operating in art and media today.
About Shygirl
Shygirl, the artist and siren who has captured our gaze, emerged from the water with her debut album 'Nymph'. Simultaneously asserting her power and freedom and yet still longing for love, she delivers us harmonious verses and catchy hooks telling stories of relationships, sexual desires and romantic frustrations. Over lush production, Shygirl brings us on the journey of what intimacy is like for a woman who's seen as "too hot to handle", someone sought after and overlooked at the same time. Melodies intertwine with the sounds of bassline, garage, dancehall and hip hop as Shygirl jumps through a vast range of emotions and situations dealing with intimacy as well as self-love, introspection, and prowess.
About sideproject
sideproject is an electronic music trio from reykjavik, Iceland. Their music is characterized by heavy, fast-paced, intricate beats and textured, flowing synths. Stealing from everyone and everywhere, sideproject's music becomes a cryptic mix of electronic influences.
Björk