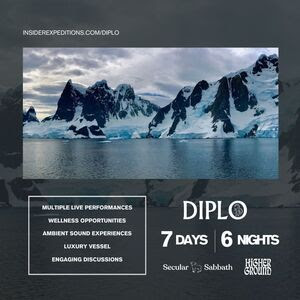 Today, Grammy-winning artist, producer and DJ Diplo confirms he is partnering with wellness collective Secular Sabbath on a seven-day luxury expedition to Antarctica from December 13–20. Presented in partnership with Ocean Conservancy and Insider Expeditions, the musical and wellness expedition will aim to raise funds and awareness for ocean conservation.
"Finally checking Antarctica off the bucket list with Secular Sabbath," Diplo says. "When Insider Expeditions explained this would be an opportunity to partner with Ocean Conservancy to raise funding and awareness for ocean conservation and environmental advocacy, I knew I had to say yes."
The expedition will take place aboard The World Voyager, a 100-cabin luxury yacht equipped with state-of-the-art technology. After flying from Punta Arenas, Chile to the continent via private charter, guests will be treated to multiple DJ sets and live performances, a live Q&A with Diplo, gourmet meals, wellness offerings from Secular Sabbath including sound baths, yoga and breathwork plus excursions to explore the land.
The voyage will raise funding and awareness for Ocean Conservancy, a distinguished nonprofit environmental advocacy group that has been at the forefront of ocean conservation for more than 50 years. Their primary focus is on promoting the well-being of ocean ecosystems, combatting marine pollution, addressing climate change and actively advocating against practices that jeopardize the lives of both marine and human communities.
For over 15 years, Insider Expeditions has curated extraordinary experiences and retreats for specialized groups, artists and organizations across all seven continents. Their trips range from mission-driven expeditions with non-profits to traveling brainstorming workshops for entrepreneurs; from wellness and yoga retreats to extraordinary family reunions; to musical and sports adventures with celebrities. Their driving mission is to share their love for the world through thoughtfully designed experiences, ethical travel practices and truly transformative journeys.
Secular Sabbath is an ambient music and sensory experience collective based in Los Angeles. At the heart of Secular Sabbath are the healing properties of ambient music. Music is proven to have deep psychological and subliminal effects on human beings. Secular Sabbath is a new kind of meditation practice in which you mix sensory experiences, awareness practices and fun to achieve the ultimate state of relaxation and restoration to incorporate into your daily life.
Diplo's 15+ years of touring have taken him all over the world — to Havana, Kathmandu, Corsica, Karachi, Delhi and countless others. He's performed in the streets of Paris, at a dog park, on top of a bridge in Australia, out of a minivan in London and across six continents. Now, he's turning his attention to the last continent on his bucket list—Antarctica.
Approximately 100 fans will be able to join Diplo and other guests and artists on the voyage. More about the expedition, including ticketing and accommodation details, can be found here:
https://insiderexpeditions.com/diplo/
.