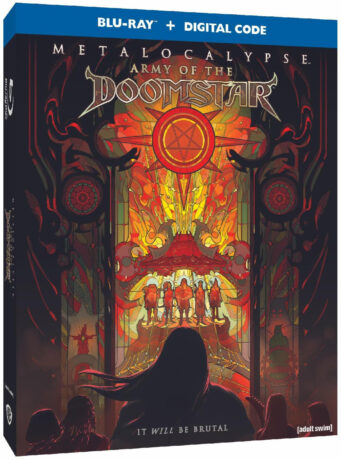 on August 22, 2023
Companion Soundtrack and "Dethalbum IV" Coming in August
from WaterTower Music
New Song "Aortic Desecration" Now Available
#Metalocalypse #ArmyoftheDoomstar
 It doesn't get more metal than this! The long-awaited return of Adult Swim's favorite heavy metal adventure Metalocalypse arrives with an all-new, full-length animated movie. Written and directed by series co-creator Brendon Small, Metalocalypse: Army of the Doomstar brings the heaviest metal band ever created back together again for an action-packed journey. The movie will be available to purchase Digitally and on Blu-ray Disc August 22, 2023.
As a special highlight, fans can also look forward to the release of two full-length albums this year. Fans can now pre-save DETHKLOK's highly anticipated Dethalbum IV which includes all new original DETHKLOK songs, and releases on August 22. The second album release, Metalocalypse: Army of the Doomstar (Original Motion Picture Soundtrack) will include additional songs plus a totally original movie score and will be released August 25.
Both albums will be released through WaterTower Music, who today released "Aortic Desecration", the first new music from Dethalbum IV, and DETHKLOK's first new music in almost 10 years! Dethalbum IV will also be available on vinyl through Mondo, and vinyl preorders are now live.
The film stars Small, Tommy Blacha, Victor Brandt (Metalocalypse), Stephen "Thundercat" Bruner (Grammy® Award-winning musician), King Diamond (KING DIAMOND; MERCYFUL FATE), Mark Hamill (Batman: The Animated Series; The Machine), Kirk Hammett (METALLICA), Jon Hamm (Confess, Fletch; Top Gun: Maverick), Scott Ian (ANTHRAX), Amy Lee (EVANESCENCE), Malcolm McDowell (A Clockwork Orange), Juliet Mills (Passions), Laraine Newman (Saturday Night Live), Raya Yarbrough (Metalocalypse: The Doomstar Requiem – a Klok Opera), and Livia Zita (2022 winner – Society of Voice Arts and Sciences Award).
From Adult Swim, Warner Bros. Discovery Home Entertainment and Titmouse, Metalocalypse: Army of the Doomstar was written and directed by Brendon Small (Metalocalypse). Executive producers are Small, Chris Prynoski (The Legend of Vox Machina), Shannon Prynoski (Fairfax), Antonio Canobbio (Arlo the Alligator Boy), and Ben Kalina (Big Mouth).
Originally premiering on Adult Swim in 2006, Metalocalypse ran for four seasons with a standalone special Metalocalypse: The Doomstar Requiem. The series was created by Brendon Small and Tommy Blancha.
Metalocalypse: Army of the Doomstar will be available on August 22, 2023 to purchase Digitally from Amazon Prime Video, AppleTV, Google Play, Vudu and more. Blu-Ray Disc will be available to purchase online and in-store at major retailers. Pre-order your copy now.
Catch up ahead of the movie with Metalocalypse: The Complete Series. Release will be available to purchase Digitally and on DVD August 22, 2023 and includes all 62 episodes, Metalocalypse: The Doomstar Requiem and all the previously released bonus materials.
SYNOPSIS:
After the heroic rescue of Toki Wartooth, DETHKLOK frontman Nathan Explosion finds himself traumatized in a BRUTAL professional and romantic flat-spin all while he is tasked with fulfilling the prophecy and confronting the ultimate songwriting challenge: write the SONG OF SALVATION and save the planet. Can Nathan Explosion look beyond his brutally damaged ego to save his band, stop the Metalocalypse, and finally face the ultimate evil: Salacia?
SPECIAL FEATURES INCLUDE:
Behind the Metal Curtain (Featurette) – Dive deep into the making of Metalocalypse: Army of the Doomstar with interviews with show co-creator Brendon Small and his team of writers, animators, and musicians as they share the inspirations behind turning the hit Adult Swim series into its first feature film.
Pricing and information:
PRODUCT                            SRP
Digital Purchase                    $19.99
Blu-ray + Digital*                 $29.98 SRP USA
Blu-ray                                  $39.99 in Canada
*Digital version not available in Canada
Audio: English, Spanish, French
Subtitles: English, Spanish, French
Running Time: approx. 83 minutes
Rated: R for pervasive language, violence and drug use
About DETHKLOK & Metalocalypse
DETHKLOK, an extreme metal band, is the most successful entertainment act on the planet and the seventh largest economy in the animated world of Adult Swim's Metalocalypse. Live, they are a multi-media powerhouse that showcases animation, comedy and brutality, excellently recreating the popular albums and animated visuals in a live atmosphere. Band members include musician and show co-creator Brendon Small and legendary drummer Gene Hoglan and more! Beginning August 30, DETHKLOK will be co-headlining a national tour with Japanese kawaii metal pioneers BABYMETAL.
About Adult Swim
Adult Swim is the leader in adult animation and #1 destination for young adults for over fifteen years, offering critically acclaimed, award-winning original and acquired series such as Rick and Morty, Genndy Tartakovsky's Primal, The Eric Andre Show, and SMILING FRIENDS. Fan favorite anime block, Toonami, airs on Saturday nights and has expanded beyond acquisitions, producing original series including Housing Complex C, Uzumaki, and new seasons of FLCL. The annual Adult Swim Festival reaches a global audience, and features performances by top musicians and comedians. Adult Swim airs nightly from 8 p.m. to 6 a.m. (ET/PT) on its linear channel and reaches fans via HBO Max. Connect with Adult Swim on Facebook, Twitter, Instagram and Tik Tok. Subscribe to Adult Swim on YouTube.
About Warner Bros. Discovery Home Entertainment
Warner Bros. Discovery Home Entertainment (WBDHE) distributes the award-winning movies, television, animation, and digital content produced by Warner Bros. Discovery to the homes and screens of millions through physical Blu-ray Disc™ and DVD retail sales and digital transactions on major streaming, video-on-demand cable, satellite, digital, and mobile channels.  WBDHE is part of Warner Bros. Discovery Content Sales, one of the world's largest distributors of entertainment programming.
About WaterTower Music
WaterTower Music, the in-house label for the Warner Brothers Discovery companies, releases recorded music as rich and diverse as the companies themselves. It has been the soundtrack home to many of the world's most iconic films, television shows and games since 2001.