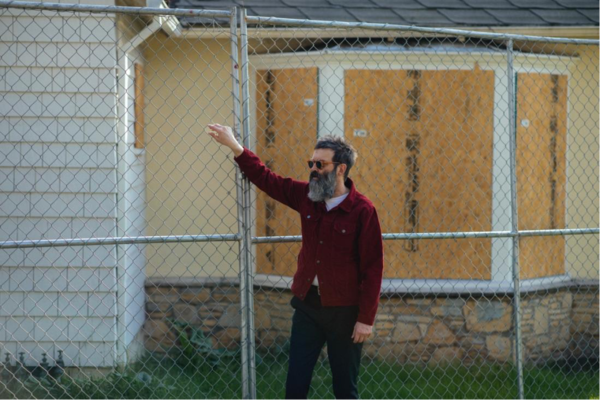 Photo credit: Gus Black 
Today, critically acclaimed rock group,
EELS 
have released a limited edition remastered vinyl reissue of their 2005 record, 
Blinking Lights and Other Revelations
 via 
E Works/[PIAS]
. Available to order 
HERE
.
Band leader and principal songwriter Mark Oliver Everett says: "When it was time to master the BLINKING LIGHTS reissue I needed to listen to the whole double album for the first time since it came out in 2005, and I was surprised by what I heard. It was an intense and emotional experience for me and I felt proud of it and overwhelmed by how hard we worked on it. I'll start mentally preparing to listen to it again when it's reissued again in 10 years."
A homemade epic, Blinking Lights… is an imaginative, emotional reflection on the condition of living, and was recorded mostly in Everett's Los Angeles basement over a period of several years. Sprawling over 33 tracks are songs about faith, responsibility, growing up, dignity, disappointment, comfort, hope and renewal. Upon release, it was the most personal EELS album since 1998's Electro-Shock Blues. That album dealt with the nearly simultaneous suicide of Everett's sister and terminal illness of his mother, from the subjects' points of view. Blinking Lights… found him a few years down the line, battling some of the family demons himself, with the after effects of past tragedies having become more of a personal issue in his adult life, sometimes fearlessly autobiographical, and other times built around the related stories of others.
The latest reissue follows EELS' recent limited edition vinyl reissues of their earlier trilogy, Hombre Lobo, End Times, and Tomorrow Morning, noted by Sunday Times as a "must-have reissue", and their critically acclaimed 2022 record, Extreme Witchcraft which found praise at MOJO, NME, The New York Times, Stereogum, SPIN and more.
EELS will be on the road next month for the North American leg of their long-awaited 
Lockdown Hurricane 
tour which kicked off in the UK in March to rave reviews from
 Daily Express 
(
"going all out at their blistering, bluesy best"
—5*), 
The Times 
(4*)
, Louder Than War 
and more. Watch "25 Years of EELS Live in 8 Minutes" video 
HERE
.
EELS have had one of the most consistently acclaimed careers in music. The ever-changing project of principal singer/songwriter E (Mark Oliver Everett), EELS have released 14 studio albums since their 1996 debut, Beautiful Freak. In 2008 E published his highly acclaimed book Things the Grandchildren Should Know and starred in the award-winning Parallel Worlds, Parallel Lives documentary about the search to understand his quantum physicist father, Hugh Everett III.
North America Tour 2023
June 8—Belly Up—San Diego, CA
June 10—Fonda Theatre—Los Angeles, CA
June 11—The UC Theatre—Berkeley, CA
June 13—Revolution Hall—Portland, OR
June 14—The Neptune Theatre—Seattle, WA
June 16—Metro Music Bar—Salt Lake City, UT
June 17—Gothic Theater—Denver, CO
June 18—Liberty Hall—Lawrence, KS
June 20—First Avenue—Minneapolis, MN
June 21—Metro—Chicago, IL
June 23—Carnegie of Homestead Music Hall—Munhall (Pittsburgh), PA
June 24—Keswick Theatre—Glenside (Philadelphia), PA
June 25—Paradise Rock Club—Boston, MA
June 27—Webster Hall—New York, NY
June 28—The Fillmore—Silver Spring, MD
June 29—Cat's Cradle—Carrboro, NC
June 30—Variety Playhouse—Atlanta, GA
Blinking Lights and Other Revelations
Format:
• remastered
 • limited edition
• crystal violet colour vinyl
• triple vinyl
• 140g standard weight vinyl
• gatefold sleeve with capacity pocket,
350gms + gloss machine varnish
• 32pp booklet 30 x 30 mm