French international pop sensation 
JAIN
 recently released her new album
 The Fool 
– Listen 
HERE
. Praise has been rolling in since the album's release a few weeks ago: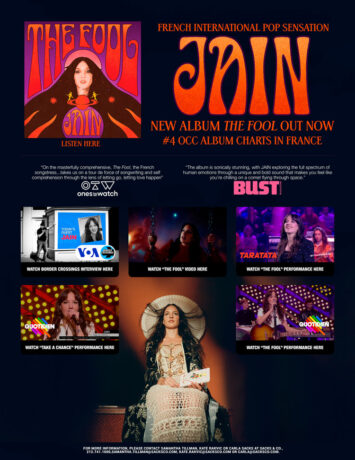 "The album is sonically stunning, with JAIN exploring the full spectrum of human emotions through a unique and bold sound that makes you feel like you're chilling on a comet flying through space" – BUST
"On the masterfully comprehensive, 'The Fool,' the French songstress…takes us on a tour de force of songwriting and self comprehension through the lens of letting go, letting love happen" – Ones to Watch
She recently performed two songs from the new album "
The Fool
" and "
Take a Chance
" on France's top access prime-time show 
Quotidien
—watch 
HERE
 and 
HERE
. Learn more here: 
https://vimeo.com/774678625
, psw: JAINEXPORT
Let me know if you'd be interested in reviewing the album or speaking with JAIN? Would love to explore coverage opps. More info in the interactive one sheet below.
Born in France and raised primarily in the United Arab Emirates and Congo, she released her debut album Zanaka in 2015. The album sold over 1 million copies worldwide and the singles "Come" and "Makeba" from the LP quickly climbed the charts, the latter of which earned the artist her first GRAMMY nomination for "Best Music Video" in 2018.
While the new album draws on artistic influences such as Kate Bush and Stevie Nicks, much of Jain's music originally blended a myriad of genres such as Arabic percussion, African rhythms, electro, reggae, soul and hip hop.