Gipsy Kings featuring
Tonino Baliardo
, in conjunction with Loud And Live, the South Florida-based entertainment, marketing and live events company, announce the 2023 North American tour entitled "Renaissance".  
Tonino Baliardo
 is the founder of Gipsy Kings, the leaders in world music. Tonino is recognized as a guitar virtuoso and for being the composer of Bamboleo, Djobi Djoba and their latest hit, 
Chica Del Sol
, amongst many other tracks.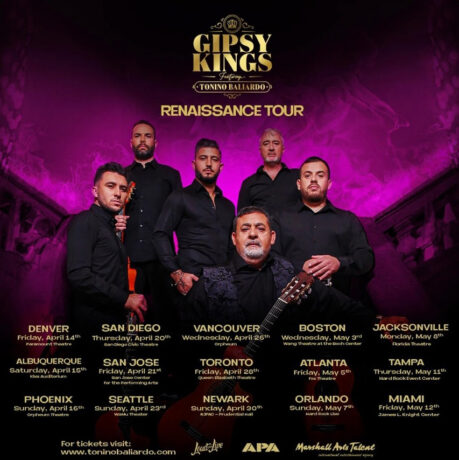 With over 20 million albums sold worldwide, 2 Grammys, tracks placed in various movies and adverts and over 30 successful years of recording and performing around the world, Gipsy Kings featuring 
Tonino Baliardo
 will take the stage in North America again. 
The Renaissance tour
 will visit some of the biggest cities in the United States and two cities in Canada, beginning in Denver, CO on April 14, 2023, and ending in Miami, FL on May 12, 2023.  
The tour
 will coincide with the release of their new album labelled "
Renaissance
," their first album in eight years. "
Renaissance
" is being acclaimed as a wonderful album full of Gipsy passion and tradition drawn from true Gipsy life.
"Over the years we have played America and made many friends on our journey there. 
We will be playing
 all the favourites and some new songs as well. Of course, it will be a wonderful fiesta," says Tonino Baliardo. Family traditions are most important to Tonino, so he will be joined by his son Cosso, next generation of Gipsy Kings, a moment fans can look forward to on this tour.
It has been over eight years since 
Tonino Baliardo
, founding member of GIPSY KINGS, released an album. Now, with the release of '
Renaissance
', the wait is finally over.  Tonino Baliardo: "After thirty years of 
touring the world
, during the lockdown of 2020 I found myself with time on my hands and enjoyed having the chance to relax with my family in Montpellier and compose new songs. I returned to my home studio and so this album 'Renaissance' was born." 
Across the eleven tracks
 on this new album, it is clear that the passion still burns strong inside Tonino Baliardo and his family of Gipsy Kings. The selection is delightfully varied, from the up-tempo 'Chica Del Sol' to the ballad of 'Abandonado', an orchestral walk with a finale that will blow listeners away.
Renaissance North American Tour Dates
Friday, April 14, 2023             Denver                Paramount Theater
Saturday, April 15, 2023        Albuquerque       Kiva Auditorium
Sunday, April 16, 2023          Phoenix               The Orpheum Theatre
Thursday, April 20, 2023       San Diego           San Diego Civic Theatre
Friday, April 21, 2023             San Jose             San Jose Center for the Performing Arts
Sunday, April 23, 2023           Seattle                WaMu Theater
Wednesday, April 26, 2023    Vancouver          Orpheum
Friday, April 28, 2023             Toronto                Queen Elizabeth Theatre
Sunday, April 30, 2023           Newark               NJPAC – Prudential Hall
Wednesday, May 3, 2023        Boston                 Wang Theatre at the Boch Center
Friday, May 5, 2023               Atlanta                 Fox Theatre
Sunday, May 7, 2023              Orlando              Hard Rock Live Monday,
Monday, May 8, 2023            Jacksonville        Florida Theatre
Thursday, May 11, 2023        Tampa                 Hard Rock Events Center
Friday, May 12, 2023             Miami                 James L. Night Center