NEW ALBUM LONDON KO OUT MAY 12
HEADLINE DATES THIS MONTH
photo credit: Alun Be
"Rich, textured guitars complement her native Bambara
vocals and bring a contemporary feel to her traditional Malian sound."
"There's sorrow, longing, worry, sympathy and determination in Ms. Diawara's voice."

"Fatoumata Diawara has verve to spare, and a dynamic
voice whose partial cloudiness is fundamental to its appeal."

Grammy-nominated Malian singer, songwriter, guitarist and actress
Fatoumata Diawara 
is unveiling her new song "
Massa Den
" featuring French rock singer-songwriter 
Matthieu Chedid 
alongside a video; listen/share the song 
HERE
Of the song, Diawara states, "Love is free, love cannot be forced upon someone. Let those who love each other be together."
"
Massa Den
" is the latest track to be released from Diawara's highly anticipated new album 
London Ko
 which is slated for release 
May 12
 via 
Wagram Music
; pre-order/pre-save the record 
HERE
. With the new album, Diawara continues to reinvent traditional African music, combining her Mandinka roots with afrobeat, jazz, pop, electronic and hip hop influences. That synthesis is reflected even in the album's title, combining the names of the Western metropolis of London with that of the Malian capital of Bamako.
On 
London Ko 
Diawara combines forces with collaborator 
Damon Albarn 
(Gorillaz, Blur) who co-produces a number of tracks on the album and is featured performing on the first single, "Nsera," which is out now to critical acclaim from 
Pitchfork
, 
Stereogum
, 
okayafrica.
, 
WNYC
, the 
Object of Sound
 podcast and more.
Diawara notes, "For me, London Ko means opening your mind. It also represents Damon Albarn's connection to Malian music." London Ko, a neologism coined by Diawara, represents an imagined continent bringing Europe and Africa together. While holding on to traditions, Diawara's music gives a prophetic vision of what Africa can do. She invents an alternative space and time where it is possible to become master of your own destiny. Positioning herself as an actor in a future world, this album raises Diawara into the ranks of the great voices of Afrofuturism.
In celebration of the new music, Diawara is set for a run of U.S. shows in select cities this month. The dates include performances at New York's Brooklyn Bowl, Seattle's Meany Hall for the Performing Arts, Inglewood's The Miracle Theater and Northampton's BOMBYX Center For Arts & Equity. See below for the full routing.
Diawara broke out in 2011 with her debut album, Fatou, which featured guest performances from legendary musicians John Paul Jones, Tony Allen and Toumani Diabaté. The record was hailed by Pitchfork as a "beguiling album" that "simply surrounds you with its atmosphere," while The Guardian praised it as "an enjoyable, impressive set." She received two nominations at the 61st Annual Grammy Awards for Best World Music Album for her 2018 album Fenfo and Best Dance Recording for "Ultimatum" in which she was featured with the English artist Disclosure.
One of 11 children born to Malian parents in Ivory Coast, Diawara grew up in the '90s in the Malian capital of Bamako. A celebrated child actor, Diawara starred in Dani Kouyaté's critically acclaimed 2001 film Sia, The Dream of the Python. At age 19 she left home against the wishes of her family and joined the French street theater company Royale de Luxe, with whom she toured the world and began singing in the clubs and cafes of Paris. Diawara eventually found herself singing backing vocals for Dee Dee Bridgewater and Malian superstar Oumou Sangaré before signing with influential label World Circuit Records for her debut album. In addition to Sia…, Diawara's film credits include the Academy Award-nominated Timbuktu, Morbayassa and Clouds of Conakry, as well as the documentaries The Africa Express and Mali Blues.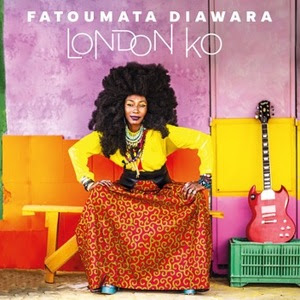 TRACK LIST
LONDON KO
1. Nsera (feat. Damon Albarn)
2. Somaw (feat. Angie Stone)
3. Sete
4. Seguen
5. Massa Den (feat. -M-)
6. Mogokan (feat. M.anifest)
7. Blues (feat. Roberto Fonseca)
8. Moussoya
9. Netara (feat. Roberto Fonseca)
10. Yada
11. Tolon (feat. Yemi Alade)
12. Dambe
13. Dakan
14. Maya
TOUR DATES
April 14—Vancouver, BC—Chan Centre For The Performing Arts
April 15—Seattle, WA—Meany Hall for the Performing Arts
April 16—San Francisco, CA—Miner Auditorium
April 18—Portland, OR—Portland Jazz Festival
April 19—Inglewood, CA—The Miracle Theater
April 21—Phoenix, AZ—MIM Music Theater
April 25—Easton, PA—Williams Center for the Arts
April 27—Northampton, MA—BOMBYX Center For Arts & Equity
April 28—Boston, MA—City Winery
April 29—Brooklyn, NY—Brooklyn Bowl
May 23—Lille, FR—Théâtre Sébastopol Lille
May 24—Paris, FR—Salle Pleyel
May 26—Arnhem, NE—Musis & Stadstheater
May 27—Groningen, NL—De Oosterpoort
May 28—Amsterdam, NL—Paradiso
May 30—Den Haag, NL—Paard
May 31—Brussels, BE—Ancienne Belgique
June 16—Saint-Chamond, FR—Festival Rue des Artistes
June 18—Neuchâtel, CH—Festi'neuch
June 21—Clichy-la-Garenne, FR—Fête de la Musique
June 23—Périgny, FR—Festival Notes En Vert
June 24—Fontainebleau, FR—Festival Django Reinhardt
June 25—Montauban, FR—Montauban en Scènes
June 29—Belfort, FR—Les Eurockéennes
June 30—Nort-sur-Erdre, FR—Festival La Nuit de l'Erdre
July 2—Autrans, FR—Vercors Music Festival
July 5—Copenhagen, DK—Copenhagen Jazz Festival
July 7—Brussels, BE—Saule @ La Semo
July 8—St-Clair, FR—Festival Beauregard Hérouville
July 9—Saint-Malô-du-Bois, FR—Poupet Festival
July 13—Ravenna, IT—Palazzo San Giacomo Russi
July 15—Cartagena, ESP—Festival La Mar de Músicas
July 17—Istambul, TUR—Istambul Jazz Festival
July 19—Juan-les-Pins, FR—Jazz à Juan
July 22—Mèze, FR—Festival de Thau
July 25—Berlin, DE—Sommer Open-Air-Musikfestival
July 26—Jena, DE—Kulturarena
July 27—Herzberg, DE—Herzberg Festival
July 28—Karlsruhe, DE—Zeltival Tolhaus
July 30—Marciac, FR—Jazz in Marciac
August 5—Vertheuil, FR—SunSka Festival
August 11—Locorotondo, IT—Locus Festival
November 17—Geneva, CH—Festival Les Créatives
November 19—Rome, IT—Romaeuropa Festival
November 20—Florence, IT—Earthbeat Festival
November 30—Luxembourg, LUX—Den Atelier
U.S. dates in bold.
<