NEW IMPROVISATIONAL PROJECT FROM EDIE BRICKELL, CJ CAMERIERI AND TREVER HAGEN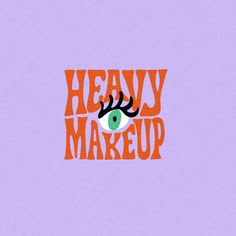 album art, designed by Andrea Nakhla | photo credit: Shervin Lainez, L-R: CJ Camerieri, Edie Brickell, Trever Hagen
September 8, 2023—
Heavy MakeUp
—the self-titled debut album from the dynamic new project of 
Edie Brickell
, 
CJ Camerieri
 and 
Trever Hagen
—is out now via
 Shuffle Records
/
Thirty Tigers
. Stream/purchase 
HERE
.
Written and produced by the trio, 
Heavy MakeUp
 is filled with sonic exploration, capturing the artists' improvisational spirit and shared curiosities through voice, synths, drum machines and brass. The album is their first official project as a collective, after initially discovering their musical chemistry when collaborating on 2022's "
More and More
," released by Camerieri and Hagen's project, CARM. Following that experience, Brickell, Camerieri and Hagen were inspired to further explore their shared creativity and spent three days together improvising, which went on to become the basis of
Heavy MakeUp
.
The new record consists of 11 tracks including "GONE TOO LONG," of which the group shares, "'GONE TOO LONG' offers such a special sentiment about one's hometown: the eternal connection of where you're from and the complexities of memory and belonging. The opening trumpet riff tries to frame this relationship with both playfulness and melancholy, like the spell of nostalgia."
In celebration of the new music, Heavy MakeUp made their live debut earlier this summer with shows at Westerly, RI's The Knickerbocker and Newport Folk Festival. Each Heavy MakeUp performance is a singular musical experience, filled with song, spontaneity and improvisation. Additional fall dates to be announced soon.
About Edie Brickell 
A GRAMMY Award-winning singer, songwriter and musician, Edie Brickell has released thirteen albums throughout her renowned career including 2021's Hunter And The Dog Star, the most recent release with the New Bohemians. Released to widespread critical acclaim, Spin declared, "Brickell's emotive vocals delve deep into the human condition while her band nimbly crosses numerous musical genres…complex but compelling work," while The AV Club praised, "Hunter And The Dog Star is joyously, infectiously loose—a record filled with the kind of playful insouciance toward genres and tones that makes it a delight to hear, start to finish…What a terrific reminder to never count Brickell and company out." In addition to her work with New Bohemians, Brickell has also released music as a solo artist, as part of the groups The Gaddabouts and The Heavy Circles, and in collaboration with Steve Martin. Brickell and Martin have released two studio albums together including Love Has Come For You, whose title track won Best American Roots Song at the 56th Annual Grammy Awards. The pair also wrote the 2016 Tony-nominated Broadway musical, Bright Star.
About CJ Camerieri 
Since graduating from The Juilliard School in 2004 with a degree in Classical Trumpet Performance, CJ Camerieri has become an esteemed soloist, chamber musician and indispensable collaborator for some of the most important artists of our time. He is a 2x GRAMMY winner and a co-founder of the acclaimed contemporary classical sextet yMusic, who the New Yorker called "six contemporary classical polymaths who playfully overstep the boundaries of musical genres." Camerieri has toured the world as a core member of Paul Simon's band since 2013 as well as with artists such as Bon Iver, Sufjan Stevens, Ben Folds and Sting among many others. For Paul Simon's "Farewell Tour" in 2018, Camerieri brought yMusic into the touring band, resulting in contemporary classical arrangements of the artist's iconic songs being performed in arenas around the world, as well as with performances on "Saturday Night Live" and "The Late Show with Stephen Colbert." He has also contributed to over 200 recordings and commissioned over 100 new works of chamber music, including pieces by Andrew Norman, Gabriella Smith, Nico Muhly, Marcos Balter, Ryan Lott and Missy Mazzoli. In 2021, Camerieri debuted his project, CARM, which was highlighted by performances on "The Late Show with Colbert Show" and NPR Music's "Tiny Desk Concert" series. Camerieri is also an accomplished French Horn player, keyboardist, arranger, composer and improviser, comfortable in all styles and genres of music. In addition, Camerieri has held numerous chairs on Broadway; played principal trumpet with orchestras such as Orpheus, The Knights, and Orchestra of St. Lukes; and written arrangements for many types of ensembles on countless recordings and performances.
About Trever Hagen
Trever Hagen is a trumpeter, electronic musician and scholar. He holds a PhD in music sociology, writing and researching how music and sound are used in socio-cultural movements. His most recent publication, "Living in the Merry Ghetto" (Oxford University Press), details the case of underground rock'n'roll in Czechoslovakia during communism and how music is implicated in collective wellbeing and resistance. Other research highlights music therapy, acoustic ecology and memory studies. Hagen has received academic awards and research fellowships, such as the Fulbright Award (USA), the Leverhulme Trust (UK), and from The Japan Society for the Promotion of Science. In Kobe, Japan, Hagen's research focused on how music improvisation intersects with music therapy, participating in an ensemble of children with cognitive disabilities in free improvisation musical performances. He has also contributed to the field of memory studies with his Routledge publication, the International Handbook Memory Studies, which covered topics such as trauma, remembering/forgetting, grieving and commemoration. As an invited speaker, he has given talks on sound and music at MIT, Zhejiang University (CN), Doshisha University, (JP) Maastricht University (NL) as well as numerous conferences and panels. As a musician, Hagen has made beats, written lyrics, engineered sessions, produced tracks and recorded trumpet with Bon Iver, Mouse on Mars, Marijuana Deathsquads, Flock of Dimes, Aero Flynn and Banks. He is one part of the live duo CARM and his releases on the 37d03d label include the records "Amgydala" and "Awefekt."
HEAVY MAKEUP TRACK LIST
1. ALL THE TIME
2. CAN'T WRAP MY HEAD AROUND IT
3. SEARCHING
4. FIRE
5. GONE TOO LONG
6. AROUND YOU
7. WHY DON'T YOU ASK HER
8. DON'T KID YOURSELF KID
9. ANY OTHER WAY
10. JENNY'S PICNIC
11. NICE TRY
---