Ivan and Misha Montana, fresh off a rip-roaring series of ring events and death match competitions in Southern California, are jetting to Newark, New Jersey for XPW (Xtreme Pro Wrestling)'s Xtreme Invasion on Saturday, November 12, held at the Heart Ballroom.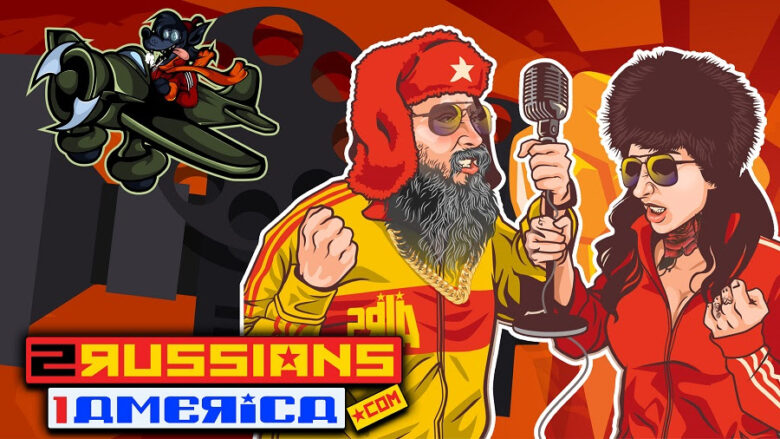 In addition to Ivan and Ms. Montana, the Xtreme Invasion is scheduled to include Masada, Necro Butcher, Sage Sin Supreme, Jody Threat, Kat Martini, Jasmin St. Claire, Veronica Caine and Death Match champ Shlak, with whom Montana serves as his official valet.
Ivan will continue his photographic work documenting the wild goings-on during the event, and Montana will once again come face-to-face with 'Mega MAGA Leader' St. Claire, whose ongoing ringside feud with the star has triggered some seriously bloody confrontations and a rowdy fan response.
Montana will also be on hand for a Meet & Greet to sign promo items, take photos with fans and offer specially-branded merchandise for purchase, and she and Ivan will also be recording the entire trip for their "2 Russians 1 America" YouTube series, and appearing together on a few choice wrestling podcasts as well.
"I'm so excited to be heading to New Jersey to meet new fans and bring some West Coast flavor to the East," said Montana of the event. "It's going to be an awesome show and I can't wait to expand the XPW family."
"Over 20 years ago when XPW did their first show on the East Coast called Hostile Takeover, my brother and I traveled with the promotion. It's was basically enemy territory with threats to boot. It was nerve racking excitement. More than 20 years later, another trip to Hostile Territory – this time in New Jersey for 'Invasion', where there will be even more drama. But I tell you want the blood flowing through the veins makes this opportunity a time to create insane imagery and lasting memories. I can't imagine the stories we will come home with."
Tickets to the event are available now at Tix.com, and all front row ringside fans will receive a free show poster autographed by some of the XPW stars.
For more info, visit TheXPWWrestling.com and look for updates on Twitter @Thexpwwrestling
Get to know Ivan and Misha Montana at:
ABOUT IVAN:
Ivan, a respected and prolific adult industry producer/director and mainstream horror filmmaker of more than 20 years, is living his best life as the inspired force behind entertainment studios such as Alt Erotic, where he currently serves as CEO and Creative Director, as well as former companies such as Extreme Associates, Evolution Erotica, Anabolic, Desire Films, Pornstar Empire, and others.
Born in Russia, Ivan moved to the U.S. as a child and earned a degree in Cinematography before embarking on an entertainment career in mainstream film and TV. He came into the adult biz in 2002, making his mark with such movies as 2004's Texas Asshole Massacre and 2005's Dawn of the Head, earning him a number of awards, nominations and a Hall of Fame induction that celebrate his talents.
While reveling in his success as a filmmaker, media personality, entrepreneur, podcast host and newly-engaged fiancé (to fellow entertainer/director Misha Montana), the past few years have also seen a surprise diabetes diagnosis that affected his ability to walk and work, and the horror of Montana suffering a stroke in 2021 that both sidelined, then recharged, their careers while driving home the "for better or for worse" aspect of their rock-solid partnership.
Between the extensive healing process, adopting a healthier lifestyle and developing new creative projects for himself and Montana, "What I learned during this experience is how important it is to listen to your body. Many of us have this 'I got this!' mentality, but truthfully, we don't. It's a serious reminder to stop and do a wellness check on ourselves physically, mentally, business-wise and how we treat others. We hustle and bustle and just run with no breaks, but we need those breaks… they are crucial." To learn more about Ivan, visit IamIvan.com or follow him on Twitter @IamIvanXXX.
ABOUT MISHA MONTANA
Raven-haired (but blonde for now!), pale-skinned and covered in tattoos, Misha Montana (aka Xeno Kitty) represents the ideal model of the Millennium. The Nevada native of Russian descent is not only one of the adult industry's fastest-rising performers, she is also the Chief Brand Officer, Production Manager and in-house director for Alt Erotic, an award-winning alternative lifestyle adult film brand.
From her Xenomorph face-hugger alien tattoo on her pussy that was documented in an AltErotic scene to making adult and mainstream headlines in 2021 for her stroke and getting engaged to her partner in crime, Ivan, on the red carpet during the AltPorn Awards, Misha consistently makes history as a creative artist on the rise.
The exotic beauty started adult modeling in 2008, and after college, where she double-majored in Psychology and Political Science, she launched her adult film career full-time in 2020, with spirited performances for AltErotic.com and other high-profile studios. In her spare time, Montana and Ivan also co-host 
2Russians1America.com
, their new YouTube channel.