NEW ALBUM PROOF OF LIFE RELEASED TO
WIDESPREAD ACCLAIM
FALL HEADLINE TOUR CONFIRMED
Photo credit: Scott Kowalchyk
Acclaimed singer, songwriter and musician
Joy Oladokun 
returned to "
The Late Show with Stephen Colbert
" last night to perform her new song, "
Somebody Like
Me
." Watch/share 
HERE
.
"Somebody Like Me" is from Oladokun's new album, 
Proof of Life
, which was released last week to overwhelming acclaim via 
Amigo Records
/
Verve
Forecast
/
Republic Records
 (stream/purchase 
here
)
. In celebration of the record, Oladokun recently spoke with 
The New York Times
, 
who proclaims, "the singer-songwriter with Springsteen aspirations wants to make music for everyone. Her new album, 
Proof of Life
, pushes her one step closer," and continues, "her songs are conversational and confessional, and her hooky but profound melodies turn her lyrics into mantras."
Critical acclaim for Proof of Life:
"Nashville's most low-key musical revolutionary…in this time of shifting priorities away from work toward self-care and connection with others, Oladokun is offering a master class in those subjects"—Rolling Stone
"Joy has every reason to sound cynical, to sound hardened, to sound sort of down beat, but instead, earnest was the first word that immediately came to mind."—NPR Music
"one of the most appealing artists working in the music scene these days"
—Associated Press
"the star is Oladokun, whose coolly understated voice and vulnerable-yet-hopeful perspective is the common thread in the range of styles on the project"—Billboard
"Oladokun has created a safe space, for herself and others, to deal with the highs and lows that being true to yourself can bring."—Grammy.com
"This is American music, distilled for this very moment"—Paste
"everyone's favorite unlikely breakout pop star…it's the latest and greatest combination of eras of pop nihilism – '90s indie pop Beck and Weezer vibes delivered with blithe, Beatles-esque musicianship."—TheTennessean
"She's almost a throwback to a pre-internet era of big-tent pop-rock, with a tempered balance of self-doubt and affirmation delivered with a voice that can convey warm affability and stadium-filling uplift"—No Depression
"Joy Oladokun commands the spotlight on Proof of Life"—XPN The Key
With production by Oladokun, Mike Elizondo, Ian Fitchuk, Dan Wilson and Alysa Vanderhym, Proof of Life captures the human experience with a profound simplicity. Across these thirteen tracks—including collaborations with Chris Stapleton, Noah Kahan, Manchester Orchestra, Mt. Joy and Maxo Kream—Oladokun celebrates the little details and simple pleasures of being alive, while also giving voice to some of life's most complex experiences in a way only she can.
One of music's most unique and vulnerable voices, Joy Oladokun will embark on her extensive "
Living Proof
" headline tour this fall including shows at New York's Irving Plaza, Denver's Summit Music Hall, St. Louis' Delmar Hall, Asheville's The Orange Peel, Charlotte's The Underground, Washington DC's The Howard, Philadelphia's Union Transfer and Boston's Roadrunner among many others. Oladokun will also join Noah Kahan on his sold-out tour this summer. See below for complete tour itinerary. Full details can be found at 
www.joyoladokun.com/tour
.
"This album is evidence of how I live," Oladokun shares. "I hope these are helpful anthems. I started making music because I wasn't hearing from the 'everyday human being' on the radio. I hope this resonates with anybody who feels normal and needs a little musical boost to get through the day. I'm average. I do this job because I love what I do. I put so much care, craft, and intention into it. I'm making music to live to."
Further adding to her breakout career, Oladokun's song, "i see america," was selected as a finalist for the Recording Academy's new Special Merit Award, Best Song for Social Change, an accolade honoring music that addresses current social issues while inspiring positive global impact. Additionally, Oladokun is featured as part of GAP's new campaign for their limited-edition line, GAP x The Brooklyn Circus, created in partnership with Brooklyn Circus founder and creative director, Ouigi Theodore, to celebrate the spirit of individuality and culture.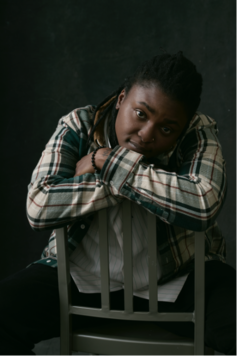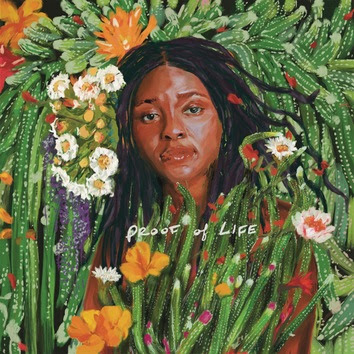 Photo credit: Brian Higbee // album cover art
Proof of Life adds to a series of breakout years for Oladokun, a proud queer Black person and daughter of Nigerian immigrants. Her breakthrough major label debut, in defense of my own happiness, landed on numerous "Best of 2021" lists including at Billboard, Variety, American Songwriter, The Tennessean, Nashville Scene, The Bitter Southerner and NPR Music, who praised, "She has a remarkable ability to distill how forces at work in the world…she can make even social and political protest feel like an intimate, warmly human act."
Moreover, Oladokun recently performed at the White House as part of the Respect for Marriage Act signing ceremony and has also performed on "CBS Saturday Morning," "Jimmy Kimmel Live!," "The Tonight Show Starring Jimmy Fallon," "The Late Show with Stephen Colbert," "TODAY," PBS' "Austin City Limits and NPR Music's "Tiny Desk (Home) Concert" series. Oladokun's music has also been included in Loudmouth, the recent Al Sharpton documentary, CBS' "CSI: Vegas," NBC's "This Is Us," ABC's "Grey's Anatomy," ABC's "Station 19," NBC's "America's Got Talent" and HBO's "And Just Like That" among many others.
Widely respected by her peers, Oladokun has collaborated with artists such as Brandi Carlile, Maren Morris, Jason Isbell, Lucie Silvas and Noah Kahan and has joined Morris, Isbell, My Morning Jacket, Pink Sweat$, Leon Bridges and Manchester Orchestra on the road. She's also performed at several major festivals including Bonnaroo, Lollapalooza, Hangout, Ohana Festival and Newport Folk Festival.
PROOF OF LIFE TRACK LIST 
1. Keeping The Light On
2. Changes
3. Taking Things for Granted
4. Somebody Like Me
5. Friends feat. Mt. Joy
6. You At The Table feat. Manchester Orchestra
7. Sweet Symphony feat. Chris Stapleton
8. Trying
9. Pride
10. Revolution feat. Maxo Kream
11. The Hard Way
12. We're All Gonna Die feat. Noah Kahan
13. Somehow
PROOF OF LIFE DELUXE TRACK LIST (VINYL AND CD)
1. Keeping The Light On
2. Changes
3. Taking Things for Granted
4. Somebody Like Me
5. Friends feat. Mt. Joy
6. Purple Haze
7. Spotlight
8. You At The Table feat. Manchester Orchestra
9. Sweet Symphony feat. Chris Stapleton
10. The Hard Way
11. Trying
12. Pride
13. Revolution feat. Maxo Kream
14. We're All Gonna Die feat. Noah Kahan
15. Flowers
16. Somehow
JOY OLADOKUN CONFIRMED TOUR DATES
May 12—Nashville, TN—Brooklyn Bowl*
May 26—Lewiston, NY—Artpark‡ (SOLD OUT)
May 27—Boston, MA—Boston Calling
May 30—Albany, NY—Palace Theatre‡ (SOLD OUT)
June 1—Montreal, QC—MTELUS‡ (SOLD OUT)
June 2—Montreal, QC—MTELUS‡ (SOLD OUT)
June 7—New York, NY—Radio City Music Hall‡ (SOLD OUT)
June 9—Columbia, MD—Merriweather Post Pavilion‡ (SOLD OUT)
June 10—Philadelphia, PA—Mann Center for the Performing Arts‡ (SOLD OUT)
June 11—Charlottesville, VA—Ting Pavilion‡ (SOLD OUT)
June 13—Charlotte, NC—Charlotte Metro Credit Union Amphitheatre‡ (SOLD OUT)
June 14—Raleigh, NC—Red Hat Amphitheater‡ (SOLD OUT)
June 20—Asheville, NC—Rabbit Rabbit‡ (SOLD OUT)
June 22—Cleveland, OH—Jacobs Pavilion at Nautica‡ (SOLD OUT)
June 23—Cincinnati, OH—Cincinnati, OH—ICON Music Festival Stage‡ (SOLD OUT)
July 11—Montreux, Switzerland—Montreux Jazz Festival
July 29—Burlington, VT—Waterfront Park‡ (SOLD OUT)
July 30—Burlington, VT—Waterfront Park‡ (SOLD OUT)
August 3-6—Chicago, IL—Lollapalooza
August 4—St. Paul, MN—Palace Theatre+
August 5—St. Charles, IA—Hinterland Music Festival
August 8—Phoenix, AZ—Arizona Financial Theatre‡ (SOLD OUT)
August 9—San Diego, CA—Cal Coast Credit Union Open Air Theatre‡ (SOLD OUT)
August 11—Los Angeles, CA—Greek Theatre‡ (SOLD OUT)
August 12-13—San Francisco, CA—Outside Lands Festival
August 15—Redmond, WA—Marymoor Park‡ (SOLD OUT)
August 16—Vancouver, BC—UBC Thunderbird Arena‡ (SOLD OUT)
August 18—Spokane, WA—Pavilion at Riverfront‡ (SOLD OUT)
August 19—Bend, OR—Hayden Homes Amphitheater‡ (SOLD OUT)
September 7-9—Park City, UT—Park City Song Summit
September 10—Denver, CO—Summit Music Hall^
September 12—Kansas City, MO—The Truman^
September 13—St. Louis, MO—Delmar Hall^
September 15—Louisville, KY—Bourbon & Beyond Festival
September 19—Asheville, NC—The Orange Peel^
September 20—Carrboro, NC—Cat's Cradle^
September 22—Charlotte, NC—The Underground^
September 23—Charlottesville, VA—Jefferson Theater^
September 24—Washington, DC—The Howard^
September 26—Columbus, OH—Newport Music Hall#
September 27—Detroit, MI—El Club#
September 28—Toronto, ON—The Phoenix#
September 30—Bridgeport, CT—Sound On Sound Music Festival
October 1—Philadelphia, PA—Union Transfer#
October 2—New York, NY—Irving Plaza#
October 4—Boston, MA—Roadrunner#
October 5—Portland, ME—State Theatre#
*with special guests FANCY and Mon Rovîa
‡supporting Noah Kahan
+co-headline with The Teskey Brothers
^with special guest Becca Mancari
#with special guest Jensen McRae