Petite powerhouse Baby Girl Bella is one of adult's top earners, thanks to her bubbly blonde personality, stunning 5'1" build and 1200cc 32 J breasts. She knows just how to get her fans going thanks to her solo, lesbian and boy/girl content that has attracted so many followers that she's currently in the .01% of all content creators on her
OnlyFans
platform.
Born in Wisconsin, raised in Arizona and now living in Southern California, Bella comes from a rough past and uses her trauma as a way to fuel her onscreen success. She claims "everything happens for a reason, and if I didn't have a past I wouldn't have such a beautiful present and future ahead of me."
After high school, Bella tried her hand at college but dropped out ("no regrets!") and moved to the East Coast to work as a feature dancer. When she realized she could better elevate her career opportunities online, she switched to live camming and private femdom shows as a full-time job.
"It was always better money than I made dancing, but it took a couple years to really get into my groove," she said. "It's all about marketing and I had to go through a lot of inner work to realize what I really wanted in life, and with the power of the universe, the rest followed." Bella added that she loves the ability to connect with her fans and distribute her content more easily as an independent creator.
Bella partied in her early adult years, but now is completely sober and loves encouraging others to take a similar path. Being vegetarian since a teen, she's been fully vegan 6 years and raw vegan the last two years. She loves living a healthy lifestyle and is very much into fitness and yoga. She attributes her high vibes and calm demeanor to her regular meditation practice.
True to her vegan roots, Bella likes to make environmentally conscious choices such as driving a pink Tesla model 3 which she says is a representation of her soul as well as how far she has come from adversity.
These days, Bella often travels to create content and collaborate with other models. She loves the freedom of being her own boss and having the creative insight for her content. The thing she misses the most while traveling is her Abyssinian cat, Ramsey. To learn more, visit
AllMyBella.com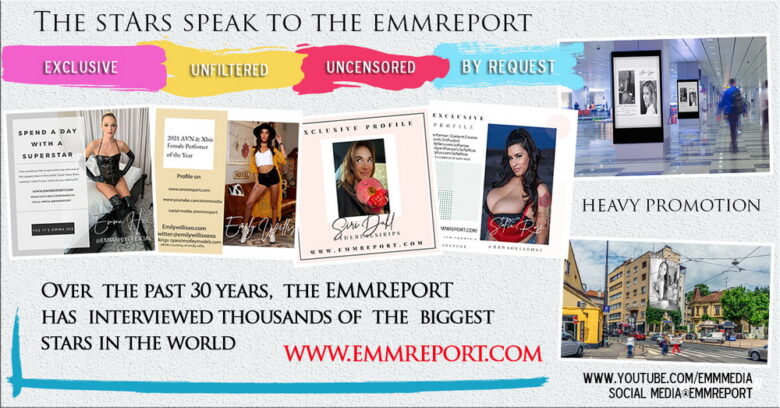 Follow us on twitter: @emmreport,@daddyspalace,@bestallstars
instagram @emmreport
Check out: www.loyalfans.com/emmreport