New album Not Through Blood out 9/8 on DAZE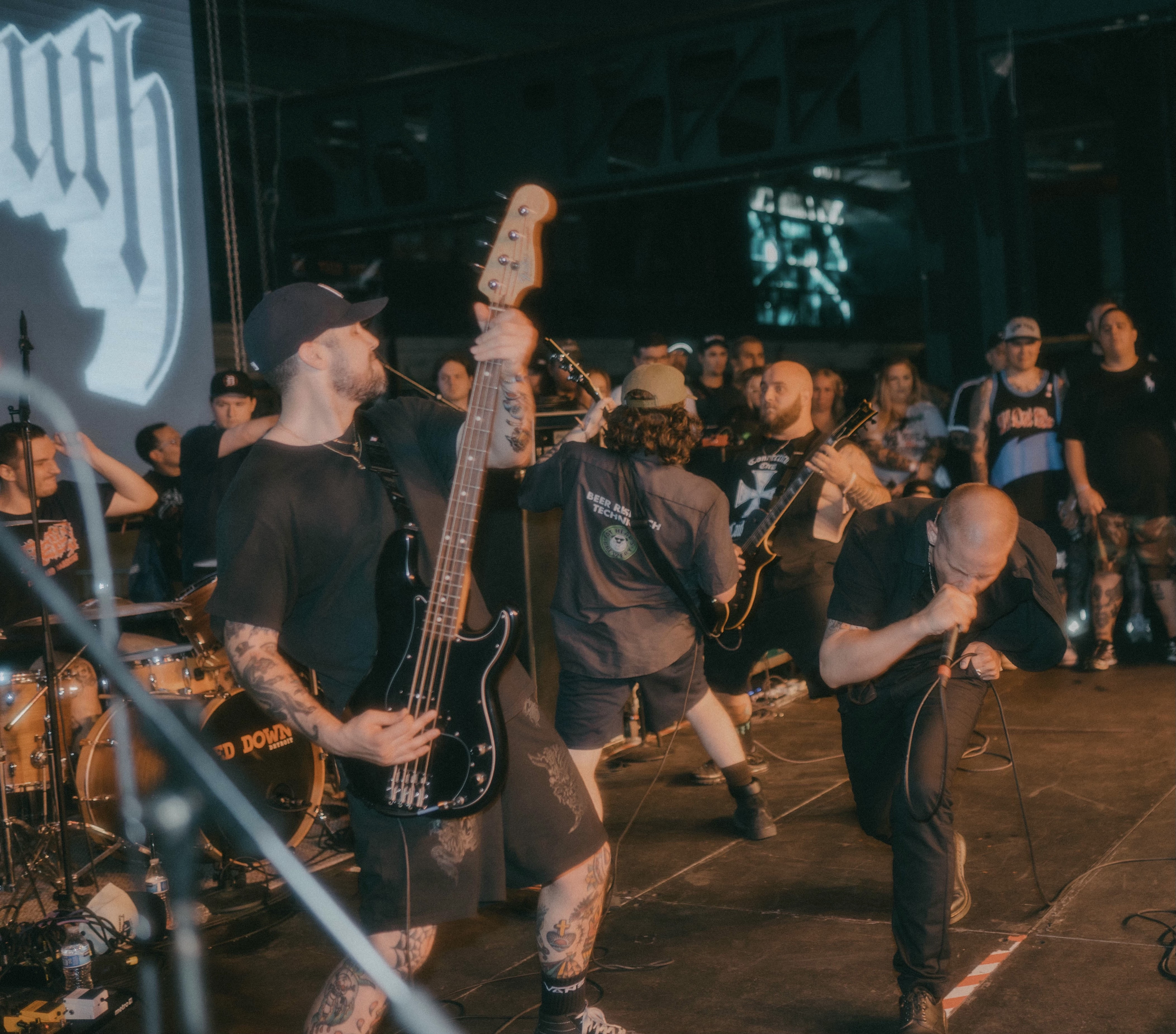 Photo Credit: Kat Nijmeddin |
"'You And Me' is everything that you could possibly want from a Pain Of Truth/Madball collab: haymaker riffs, clipped and barked-out almost-rap vocals, hazardous mosh parts, a general air of tough-guy invincibility. It's the fucking shit." – Stereogum
"Pain of Truth are the type of hardcore band where fans should expect bloodshed (the fun kind) at every show. The NYHC crew write mosh music, plain and simple." – Revolver
"Meaty guitars, pummeling percussion and a visceral, vocal 'fuck-you' properly introduce the album." – Knotfest
New York hardcore band Pain Of Truth have announced a US headline tour this fall with an East Coast/Midwest leg starting November 2nd in Boston, MA and the West Coast dates starting 12/5 in Anaheim, CA. The run comes in support of their debut full-length Not Through Blood set for release September 8th on DAZE. The album has a a whopping thirteen guest features including Scott Vogel of Terror, Justice Tripp of Trapped Under Ice, Vinnie Caruana of The Movielife, Jay Peta of Mindforce, and Brendan Garrone of Incendiary, and the tour is just as stacked. Joining Pain Of Truth on the first leg of the tour are Life's Question and Vomit Forth, with Koyo, King Nine, and Soul Blind on select dates. On the second half, the band are joined by labelmates Momentum and Torena with Ingrown, Deadbody, and Big Boy on select shows. Tickets will go on sale this Friday, September 1st at 10AM local time.
Pain Of Truth have quickly become one of the most exciting true hardcore bands to emerge in the twenty-twenties, known for their intense live shows and hard-hitting lyrics. Following the 2020 EP, No Blame…Just Facts, and a 2021 split with Age Of Apocalypse, Not Through Blood finds the band sounding sharper and meaner than ever. Not Through Blood was recorded and mixed by Andy Nelson at Bricktop Studio in Chicago, IL and mastered by Bill Henderson at Azimuth Recordings. It is available for vinyl and CD preorder now through DAZE and digital on Bandcamp.
Pain of Truth is Michael Smith (vocals), Nik Hansen (guitar), Ridge Rhine (guitar), Zach Stache (bass), and Nick Barker (drums).
Tour Dates:
9/2 – Albany, NY @ Born Dead Fest w/ Hatebreed, Bleeding Through + more
9/17 – Osaka, JPN @ Sunhall – Summer Bash Fest
9/18 – Kyoto, JPN @ Gattaca
9/19 – Mie, JPN @ Club Chaos
9/21 – Tokyo, JPN @ Hachioji Match Vox
9/22 – Shinjuku, JPN @ Antiknock – Bloodaxe Fest Preshow
9/23 – Kawasaki, JPN @ Club Citta – Bloodaxe Fest
9/30 – Pittsburgh, PA @ Preserving w/ Code Orange, Madball + more
11/2 – Boston, MA @ Sonia W/ Soul Blind, Vomit Forth
11/3 – Asbury Park, NJ @ House of Independents w/ Koyo, Life's Question, Vomit Forth
11/4 – Phoenixville, PA @ The Polish Club w/ Koyo, Vomit Forth
11/6 – Cleveland, OH @ The Foundry w/ Life's Question, Vomit Forth
11/7 – Detroit, MI @ The Sanctuary w/ Life's Question, Vomit Forth
11/8 – Chicago, IL @ Subterranean w/ Life's Question, Vomit Forth
11/9- Louisville, KY @ Portal w/ Life's Question, Vomit Forth
11/10 – Nashville, TN @ The End w/ Life's Question, Vomit Forth
11/11 – Raleigh, NC @ Chapel of Bones w/ Life's Question, Vomit Forth
11/12 – Atlanta, GA @ The Masquerade w/ Life's Question, Vomit Forth
11/13 – Orlando, FL @ Level 13 w/ Life's Question, Vomit Forth
11/15 – Houston, TX @ The End w/ Life's Question, Vomit Forth
11/16 – San Antonio, TX @ Vibes Underground w/ King Nine, Life's Question, Vomit Forth
11/17 – Denton, TX @ Rubber Gloves w/ King Nine, Life's Question, Vomit Forth
11/18 – Tulsa, OK @ Flyover Fest
11/19 – St. Louis, MO @ Off Broadway w/ Life's Question, Vomit Forth
11/20 – Cincinnati, OH @ Legends w/ Life's Question, Vomit Forth
12/5 – Anaheim, CA @ Chain Reaction w/ Deadbody, Torena
12/6 – Phoenix, AZ @ Nile Underground w/ Momentum, Torena
12/8 – Denver, CO @ HQ w/ Momentum, Torena
12/9 – Salt Lake City, UT @ The Beehive w/ Momentum, Torena
12/11 – Boise, ID @ The Shredder w/ Ingrown, Momentum, Torena
12/12 – Portland, OR @ Mano Oculta w/ Ingrown, Momentum, Torena
12/13 – Tacoma, WA @ Real Art w/ Ingrown, Momentum, Torena
12/15 – Berkeley, CA @ 924 Gilman St w/ Big Boy, Momentum, Torena
1/6+7 – Tampa, FL @ FYA Fest
Not Through Blood Tracklist:
1. Lifeless On The Ground feat Anthony Didio and Jon Lhaubouet (vein.fm)
2. In Your Heart feat Scott Vogel (Terror)
3. Actin' Up feat Steve Buhl (200 Stab Wounds)
4. You and Me feat Freddy Cricien (Madball)
5. This Falls On You feat Shane Moran (Bad Seed / Title Fight)
6. Too Late feat Justice Tripp (Trapped Under Ice / Angel Du$t)
7. Pickin' at Scraps feat Jay Peta (Mindforce) and Austin Sparkman (Buried Dreams / Haywire)
8. Out Of Our Hands feat Vinnie Caruana (The Movielife / I Am The Avalanche)
9. Same Old Story (Instrumental)
10. Under My Skin feat Josiah Hoeflinger (Criminal Instinct)
11. Not Through Blood feat Brendan Garrone (Incendiary) and Corin (Last Wishes)