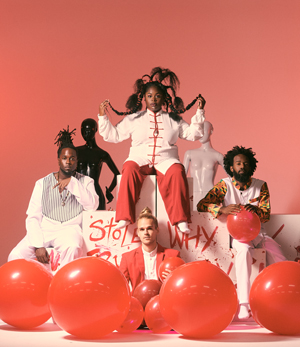 TO PERFORM RESIDENCY AT BLUE NOTE JAZZ CLUB IN NEW YORK CITY
Watch The Tonight Show with Jimmy Fallon HERE
Watch Austin City Limits HERE
Watch the Today Show HERE
"Outside," the new track from Best New Artist Grammy nominees Tank and The Bangas, is out now on Verve Records. Of the song, frontwoman Tarriona "Tank" Ball says, "I think everybody is feeling that excitement and anxiousness about concerts and festivals coming back again. That's what 'Outside' is all about for live show lovers like us, who live for the energy we get from the people. We're excited to share this song with you and can't wait until the world is singing back to us, 'We outside.'" Listen to/share the song HERE.
In conjunction, the band continues to take their lauded live show on the road this year, including a residency at New York's Blue Note Jazz Club this November as well as appearances at Roots N Blues Festival, Indy Jazz Fest, Mempho Music Festival and more. Full tour routing can be found below.
Earlier this year, the group released their third studio album, Red Balloon, to widespread praise. Predominantly produced by Tank and the Bangas, the 16-track album includes contributions from Alex Isley, Masego, Lalah Hathaway, Jacob Collier, Questlove, Big Freedia, Trombone Shorty, Jamison Ross, The Hamiltones, Georgia Anne Muldrow and Wayne Brady. The new work has evolved and pushes the band to a new level, shedding light on their unique observations and songwriting reflecting on the ills of America while also celebrating the beauty of Black life.
New Orleans-based Tank and the Bangas rose to prominence in 2017 following their unanimous NPR Music Tiny Desk Contest victory. In 2019, the band released their major label debut, Green Balloon, on Verve Forecast to widespread critical praise. Last year, Tank and The Bangas released their EP Friend Goals, featuring CHIKA, Duckwrth and PJ Morton.
Throughout their career the group has performed on "The Tonight Show Starring Jimmy Fallon," "Austin City Limits" and "TODAY." Tank and The Bangas have toured non-stop, selling out venues both stateside and abroad including festival appearances at Coachella, Glastonbury, Bonnaroo and the Newport Jazz Festival.
Tank and The Bangas are Tarriona "Tank" Ball (lead vocals), Albert Allenback (alto saxophone, flute), Joshua Johnson (drums) and Norman Spence (keys).
See what the media says about the new record:
Watch The Late Show With Stephen Colbert #LATESHOWMEMUSIC performance HERE
Listen to NPR Morning Edition HERE
Listen to NPR 1A HERE
Watch Variety Live From My Den HERE
"The range of Tank and a band is just simply wonderful. They deserve all the accolades and more for this release."—NPR Music
"[A] bangin' third studio album."—Variety
"Soul is more than a one-track monolith, as heard with Tank and The Bangas' Red Balloon. The jazzy, funk-influenced, soothing elements of this LP leave one ready to reflect and bask in the various takeaways revealed throughout."—Vibe
"Support their movement, support their music."—Sway's Universe
"…showcases the group's lush sonic chemistry and Tank's knack for poignant lyricism."—American Songwriter
"Like the New Orleans-based group themselves, Red Balloon brazenly blossoms into a rambunctious, free-flowing celebration that dives soul first into a heady nu-funk groove…. At one with otherness and living-in-the-moment-centric, the quirky quintet enters its most artistically unified era with gusto."—Bust Magazine
"The album has an instantly recognizable freedom to it, a collaborative pulse and lighthearted strokes of genius that help alleviate even the darkest corners of the songs."—Under The Radar
For more information, please contact Samantha Tillman,
Louis D'Adamio or Carla Sacks at Sacks & Co., 212.741.1000.
TANK AND THE BANGAS LIVE
October 1 /// Indianapolis, IN /// Indy Jazz Fest
October 2 /// Memphis, TN /// Mempho Music Festival
October 7 /// Gretna, LA /// Gretna Fest
October 8 /// Columbia, MO /// Roots N Blues Festival
October 9 /// Atlanta, GA /// Centennial Olympic Park
October 15 /// Natchez, MS /// Natchez Balloon Festival
November 4 /// Minneapolis, MN /// Music For Shelter
November 11 /// New York, NY /// Blue Note Jazz Club (Two Shows)
November 12 /// New York, NY /// Blue Note Jazz Club (Two Shows)
November 13 /// New York, NY /// Blue Note Jazz Club (Two Shows)
November 18 /// New York, NY /// Blue Note Jazz Club (Two Shows)
November 19 /// New York, NY /// Blue Note Jazz Club (Two Shows)
November 20 /// New York, NY /// Blue Note Jazz Club (Two Shows)
FACEBOOK / INSTAGRAM / TWITTER