Story: Ralph Greco, Jr.
So, let me tell you my Kip Winger story…
A few years ago my roommate was playing in a band, and that band and another were warming-up Winger as they came through the area playing a bunch of club dates. What was neat about this particular show was that Winger was out with all its original members and even though I was never a fan of the band, though I surely was of their drummer Rod Morgenstein, who was the original drummer of a band I loved, The Dixie Dregs. So, 'up' I went with my buddy to The Chance in Poughkeepsie, as much to support him, as to catch a classic line-up of a well-known band.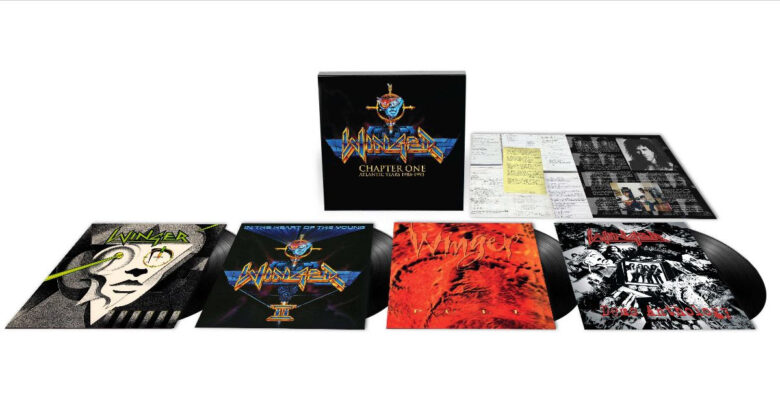 I couldn't have bene more surprised with how heavy Winger were (I had only ever known them from their MTV hit video tunes) and how amiable their leader, Kip Winger was. During the encore he even pulled a ten-year-old boy from the audience, after the kid's dad shouted up to stage that his son played bass, strapped his very own bass on the kid, and led him to play a Van Halen cover along with the band.
Now I find out that Winger's 1988-1993 albums have been compiled in a new box set, that also includes a bonus disc of demo recordings. This collection, called "Chapter One: Atlantic Years 1988-1993" is set for release on November 17, 2023 via Atlantic/BMG, and will be available as both vinyl and CD versions.
Included will be the band's self-titled debut from 1988 (which spawned the hits "Madalaine," "Seventeen," and "Headed or a Heartbreak"), In the Heart of the Young from 1990 (which gave us "I Can't Get Enuff," "Miles Away," and "Easy Come Easy Go"), and Pull from 1993 (which contained "Down Incognito").
"I'm very proud of this box set.  It captures an unforgettable era for the band and these are the only remasters I officially endorse," Kip Winger says about this collection.
Hit the link below to pre-order the set, and you should, if you want to hear more of a band you might have only ever thought of as MTV-darlings or have never heard the full might of…or you are a Winger completist.
https://winger.lnk.to/atlantic
FOR MORE INFORMATION, VISIT:
wingertheband.com
Ralph Greco, Jr. is the devilishly clever nom de plume of professional writer/musician Ralph Greco who lives in the wilds of suburban New Jersey. He is also a podcast co-host, but as everyone has a podcast these days, this fact is of very little consequence.
Ralph can be reached by writing [email protected]