Just in time for the holidays, YouTube star and content creator Whatever Amy has released a 2023 calendar with 12 months of sexy all-new photos to carry fans through the year.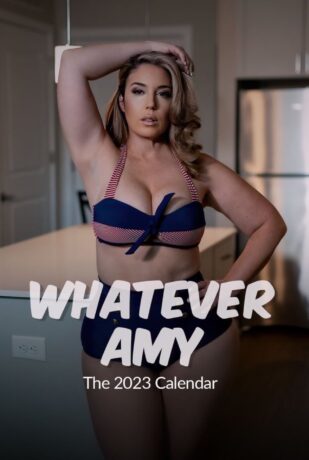 The Whatever Amy 2023 Calendar is a full color, 12″ x 18″ VIP calendar featuring 14 large, HD images. The uncensored calendar runs from January 2023 through December 2023, including an exclusive centerfold between June & July.
"Spend the year with me or give the gift of my calendar this holiday season," says Whatever Amy. "I put a lot of tender loving care into it and I wish all of my fans the best, happy new year."
You may purchase the 2023 Whatever Amy calendar here https://fangear.vip/product/whatever-amy-the-2023-calendar/
You may follow Whatever Amy on Twitter at https://twitter.com/Whatevah_Amy on Instagram at https://www.instagram.com/whatevah_amy/ and on her popular YouTube channel
https://www.youtube.com/channel/UCdBZrYz8w3KICMW0kofBSJg
For all things Whatever Amy go to https://whateveramy.com/
About Whatever Amy:
Dubbed America's Internet Sweetheart, Whatever Amy came onto the social media scene in 2015 through her popular and witty Twitter page. Her sarcastic takes on life's mishaps and observations on commuting, divorce, dating and life over 40, have brought many flocking to her page for a hearty laugh.  After joining OnlyFans two years ago on a whim, her empire has grown exponentially, much to the 45-year-old Jersey native's surprise.   Since then, she has quickly grown in popularity and branched out to YouTube, Instagram, LoyalFans and the iconic Playboy's Centerfold.com.  When she's not hilariously pointing out her own daily misfortune on Twitter, divulging her sultry side on her subscription sites or teaching everyone about proper bra sizing on YouTube, she can be found on the nearest golf course- most likely cursing.