XBIZ is pleased to announce that acclaimed director, writer, producer and studio head Erika Lust will deliver a keynote address at the 2023 XBIZ LA conference, set for Jan. 9-12.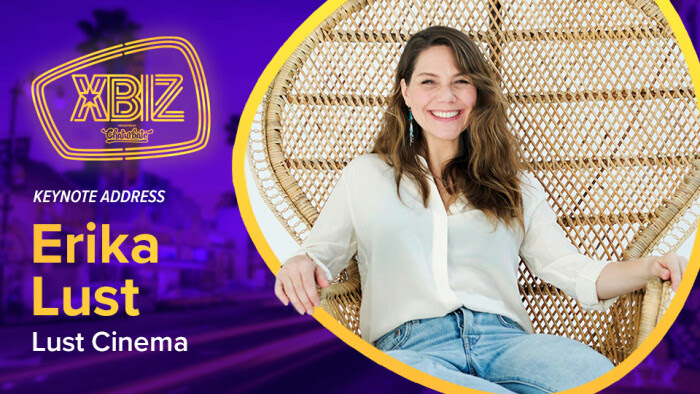 North America's largest adult industry conference will once again bring together top stars, indie creators, digital media pros, company execs and newcomer entrepreneurs for boundless business opportunities — and for a comprehensive look at the future of adult entertainment.
Lust first made a splash in the industry in 2004 with her debut indie erotic film, "The Good Girl." She went on to shake up adult cinema, going beyond traditional gender roles and stereotypes and offering diverse representation in her films. Establishing herself as a household name through groundbreaking works while shaping opinions through her popular 2014 TEDx Talk, Lust became a go-to source for mainstream news outlets pondering the adult industry and its issues.
A proponent of the "female gaze," Lust employs women behind the camera in all key positions. She has also advocated for employing more women, BIPOC and LGBTQ+ people in porn behind the scenes, and for the importance of paying for porn to ensure safer working conditions and fairer pay for sex workers.
In 2017, Lust's story was featured in the Netflix documentary series "Hot Girls Wanted: Turned On." In 2019, she was named one of the BBC's "100 Most Influential Women of the Year" and delivered a keynote speech at the Berlin International Film Festival.
In addition to overseeing Lust Cinema, XConfessions and offshoot ventures, Lust is an author. Her five books have been translated into several languages, and her essays have appeared in anthologies as well in publications including USA Today and Dazed.
Earlier this year, The New York Times described Erika Lust Films as "an art-house pornography behemoth" that offers "something outside the porn mainstream."
"Most viewers watch Lust's stylish, highly produced films by subscribing to her websites, where she also distributes videos by other like-minded directors," the Times noted. "But her own films have also been screened in regular movie theaters in Berlin, London, Paris, Los Angeles and New York."
"There's not just one type of porn," Lust told the paper of record. "People see it as one monolithic entity, but it's not."
"I started making adult films 15 years ago out of a passion for sex, life, for art and feminism," Lust told XBIZ this week, speaking from her Barcelona headquarters. "I still feel that porn as a medium has a huge potential to influence society positively, but as an industry, we have to constantly fight for our right to exist. And that effort detracts from our ability to grow and evolve. Why are we marginalized and dismissed as culturally worthless?
"I want to denounce the amount of violence and stigma that all the professionals inside it have to face every day. Sex workers are having their platforms taken down regularly, which is usually their main source of income, and it's only getting worse. We're all experiencing what we call a biased banning."
Lust told XBIZ she believes that if the adult industry demonstrates values and concern for human sexual health, that could change popular perceptions and help the industry achieve "the right place in culture and society."
The 2023 edition of XBIZ LA kicks off "XBIZ week" with an extensive array of scheduled panels, networking socials and exclusive special events such as Winter Wonderland and XBIZ Honors, as well as post-conference events X3 Expo and the 2023 XBIZ Awards.
For event information, visit XBIZShow.com.