story: Ralph Greco, Jr.
When I spoke to Kansas' original and long-standing guitarist Rich, he did indeed tell me that he thought his band's latest 50th ANNIVERSARY TOUR – ANOTHER FORK IN THE ROAD tour, which had only just begun when we spoke (see the interview here) might be extended. This was as much due to the fact that an iconic American band like Kansas can still pull in audiences (although Mr. W was too humble to belabor this fact) as how much fun the band feels when they play…something Mr. Williams definitely mentioned. So, it comes as no surprise that we received the news this week that Kansas is adding a bunch of dates to their tour.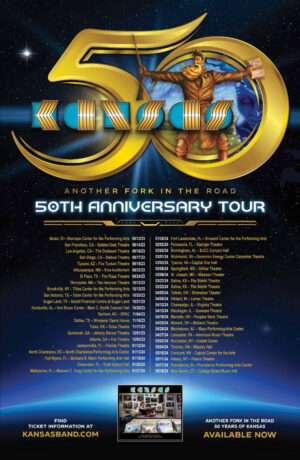 Most of the newly announced concert dates go on sale this Friday, September 15, 2023, at 10 AM Local Venue Time. KANSAS Fan Club, American Express Card Holders, and other presales begin on September 12 at 11 AM Local Venue Time. All the information on where the band will perform well into 2024 and how to get tickets can be found here: kansasband.com/tour-dates/
If you've been out of the Kansas loop for a while, here are a few facts you can salivate over. This short list surely reveals this vintage rock act is still alive and well, going strong…and that you should get out to see them:
In connection with the tour, InsideOutMusic has released Another Fork in the Road – 50 Years of KANSAS. The 3-CD career-spanning collection features carefully selected tracks from across KANSAS's sizable discography (get it here).
Violinist & guitarist Joe Deninzon is the band's newest member, having stepped in to replace David Ragsdale. Ragsdale was with the band for the past twenty-three years, appearing on three studio albums and a host of live shows.
Between this past May and June, Kansas proudly supported the charity Folds of Honor by selling a limited edition "Carry On, Wayward Son" t-shirt, with profits from sales all going to the organization.
The above reasons, their classic songs, and how well the latest iteration of this classic band plays should get you out to see Kansas on their extended dates. You'll be happy that you did.