TICKETS ON-SALE THIS FRIDAY
NEW ALBUM STICKS AND STONES RELEASED TO CRITICAL ACCLAIM, TOP 5 AND RISING ON AMERICANA
ALBUMS CHART
Story: Ralph Greco, Jr.
September 19, 2023—GRAMMY Award-winning artist Lukas Nelson and his longtime band, POTR, will continue their fall headline tour through December with newly confirmed shows at Providence's The Strand, Rochester's Water Street Music Hall, Pittsburgh's Stage AE, Columbus' Bluestone, Chicago's Joe's Live, Milwaukee's The Rave and Minneapolis' First Avenue among many others. See below for complete tour itinerary.
Tickets for the new dates will be available for pre-sale starting tomorrow, September 20 at 10:00am local time with general on-sale following this Friday, September 22 at 10:00am local time. Full details can be found at 
www.lukasnelson.com/tour
.
The upcoming performances celebrate Nelson's acclaimed new album, 
Sticks and Stones
, which was released earlier this summer via 6ACE Records/Thirty Tigers (stream/purchase 
here
). Self-produced by Nelson and POTR
, Sticks and Stones 
is currently #3 on the Americana Albums charts and rising. With the record, Nelson also continues to garner success at radio as his single, "
Sticks and Stones
," recently reached #1 on the Alt Country chart and #7 on the Americana Singles chart, while "
More Than Friends
," featuring Lainey Wilson, reached #1 on the Americana Singles chart earlier this summer.
Critical acclaim for Sticks and Stones:
"makes the genre his own…This is a fresh and welcome addition to what he's offered so far"
—The Wall Street Journal
"thoughtful, timeless Southern-style rock featuring anything from introspective lyricism to virtuoso-style musicianship"—The Tennessean
"These songs are tried-and-true boot stompers, a particular style that feels like Nelson's sweet spot. They're also a showcase for some of his most masterful storytelling"—No Depression
"Radiating an easygoing style while capturing some of the most relatable experiences of the human condition, Lukas Nelson bares it all on Sticks and Stones"—Cowboys & Indians
"pure joy…on 12 lighthearted songs, classic twang, jam-rock tenancies, and jaunty old-time pop join a wink and a wry smirk, as Nelson lets the bad vibes roll off his back"—Nashville Lifestyles
"delivers in sound and ethos…the album showcases Nelson's voice more prominently than ever before"—Austin Chronicle
"Lukas again shows that he is pretty much a genre unto himself…the album keeps you guessing as to what you might hear next, but every song is a gem"—Americana Highways
"a thoroughly good listen…Lukas Nelson + POTR deliver by the shovel"
—Entertainment Focus
"enormously upbeat, playful and frankly joyous record"—Holler
"each song is a stylistic love letter to various snapshots of country music's century-long history"—Dallas Observer
"Lukas is a master with the pen"—Whiskey Riff
"It's a likable, very well-rooted, American sound"—Riff Magazine
Written solely by Nelson, Sticks and Stones is filled with upbeat energy and a sense of fun, as he explores the universal human experiences of love, celebration, longing and humor, while also capturing the musical power and electricity of the band's live performances.
Of the record, Nelson reflects, "This album is about celebrating the human connection, joy and excitement. We went from quiet and introspective on A Few Stars Apart to something big and fun to really showcase the band's talent and performance. You can listen to the album Sticks and Stones from start to finish and get the songs to dance to and then the quiet, poignant songs. To me, this album is the perfect setlist."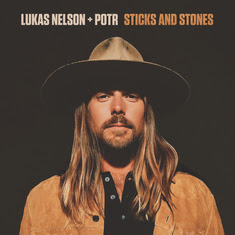 album cover art // photo credit: Shervin Lainez
Since his debut over a decade ago, Texas and Hawaii-based Nelson has played countless sold-out shows and festivals and released seven studio albums to date including the latest, 2021's A Few Stars Apart. Produced by Dave Cobb, the record spent seven weeks at #1 on the Americana Albums chart and received widespread acclaim with Rolling Stone declaring, "His best album yet…Nelson's most compact, streamlined, and focused album," while The Tennessean asserted, "a collection of lyrically stirring, musically multifarious and ultimately hopeful roots rock storytelling."
Additionally, Nelson co-produced the music for 2018's lauded A Star Is Born film in addition to appearing in the film and went on to win a BAFTA Award for Best Original Music and a GRAMMY Award for Best Compilation Soundtrack for Visual Media.
STICKS AND STONES TRACK LIST
1. Sticks and Stones
2. Alcohallelujah
3. Every Time I Drink
4. More Than Friends feat. Lainey Wilson
5. Ladder of Love
6. Wrong House
7. Icarus
8. If I Didn't Love You
9. Overpass
10. Lying
11. All Four Winds
12. The View
LUKAS NELSON & POTR CONFIRMED TOUR DATES
BOLD on-sale this Friday, September 22 at 10:00am local time
September 20—St. Louis, MO—Delmar Hall
September 21—Bloomington, IL—The Castle Theatre
September 24—North Adams, MA—FreshGrass
September 27—Boston, MA—TD Garden*
September 29—New York, NY—Madison Square Garden*
October 6-8—Gretna, LA—Gretna Heritage Festival
October 13—Austin, TX—ACL Live at the Moody Theatre
October 14—Midland, TX—The Tailgate
October 15—San Antonio, TX—The Espee
October 18—Abilene, TX—The Paramount Theatre
October 19—Fort Worth, TX—Tannahill's Tavern
October 21—Oklahoma City, OK—Tower Theatre
October 24—Little Rock, AR—The Hall
October 25—Memphis, TN—Minglewood Hall
October 26—Oxford, MS—The Lyric
October 28—Atlanta, GA—Buckhead Theatre
October 30—St. Petersburg, FL—Jannus Landing
November 1—Fort Lauderdale, FL—Parker Theatre
November 4—Sanford, FL—Tuffy's Music Box
November 5—Fort Myers, FL—The Ranch Concert Hall & Saloon
November 8—Nashville, TN—Ryman Auditorium
November 9—Asheville, NC—Orange Peel
November 11—Raleigh, NC—The Ritz
November 12—Washington, DC—9:30 Club
November 14—Charlottesville, VA—Jefferson Theatre
November 15—Asbury Park, NJ—Stone Pony
November 16—Philadelphia, PA—Brooklyn Bowl
November 19—Providence, RI—The Strand
November 24—Burlington, VT—Higher Ground
November 25—Kingston, NY—Ulster Performing Arts Center
November 26—Rochester, NY—Water Street Music Hall
November 28—Toronto, Ontario—Concert Hall
November 29—Cleveland, OH—House of Blues
November 30—Pittsburgh, PA—Stage AE
December 2—Cincinnati, OH—Bogarts
December 3—Columbus, OH—Bluestone
December 5—Chicago, IL—Joe's Live
December 6—Milwaukee, WI—The Rave
December 7—Minneapolis, MN—First Avenue
*supporting Tedeschi Trucks Band
Ralph Greco, Jr. is the devilishly clever nom de plume of professional writer/musician Ralph Greco who lives in the wilds of suburban New Jersey. He is also a podcast co-host, but as everyone has a podcast these days, this fact is of very little consequence.
Ralph can be reached by writing [email protected]