Pillow Talk podcast, the Number One adult podcast on the planet, is making dreams come true as they invite Stage 4 cancer patient Jake Marshall to Los Angeles and introduce him to his favorite adult stars Nikki Benz and Kazumi.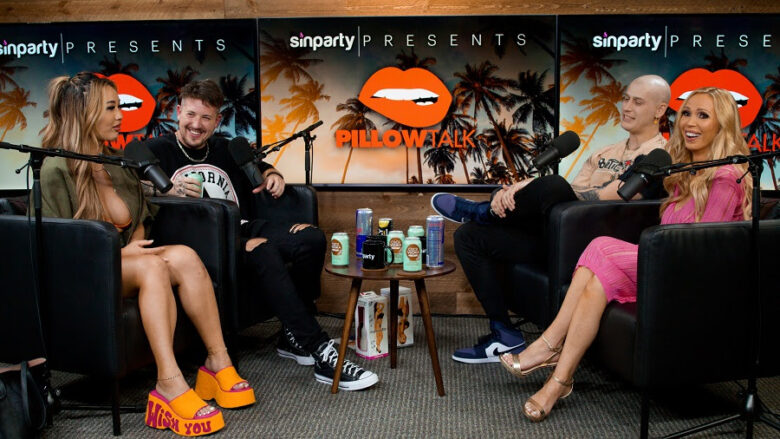 In the first of the two-part episode, host Ryan Pownall chats with 28-year-old Marshall, who was diagnosed in December '22 with Synovial Sarcoma, a rare form of cancer that affects the tissues around the body's joints (and has metastasized to his lymph nodes and lungs), about his serious condition.
"Jake DM'd me on Instagram saying he's a huge fan, and his dying wish is to come meet me and his favorite porn stars. I thought, 'Fuck ya!'" said Pownall. "This is my favorite episode of all time.
I really wanted to get to know Jake, so I invited him to come stay with me for a week, just to hang out and show him around LA. I also took him to Vegas for a weekend to celebrate after the episode.
"Jake is like my brother now; he's such a good person. He's so positive. He really helped me out while I was down about my recent break up. Jake has balls. Who else with Stage 4 cancer would just do all this? He's a legend. And what comes next is an unexpected twist with a happy ending, and a happy ending is exactly what we've got in store for Jake in next week's episode."
ABOUT PILLOW TALK:
Launched in May 2021, Pillow Talk podcast is the brainchild of host Ryan Pownall, a Toronto, Canada native currently living in Los Angeles, who interviews adult stars, celebrities and influencers with a lighthearted, comedic flair.
Currently the #3 Comedy Podcast in the World, Pillow Talk enjoys more than 200 million views per month across its platforms, and Pownall, known as the Ryan Seacrest of Porn, interviews his guests about sex, relationships and life, and holds a Guinness World Record for hosting the world's largest beer pong tournament.