ROCK, PAPER & SCISSORS, which debuted at Fantastic Fest and went on to win worldwide acclaim at FrightFest, Brooklyn Horror FF, Fantaspoa and more, has been scheduled for a North American release July 6.
A dark thriller with elements of comedy and oozing style, the Argentinean horror film tells of siblings who have embark on a 'bloody' feud over an inheritance.
THN called it "a spin on Misery…a solid chamber piece chiller" and The Blue Lenses say it's "Masterfully directed, perfectly cast and immaculately paced".
Martín Blousson and Macarena García Lenzi directed the film, which will get a full digital and on demand release July 6 from Dark Star Pictures.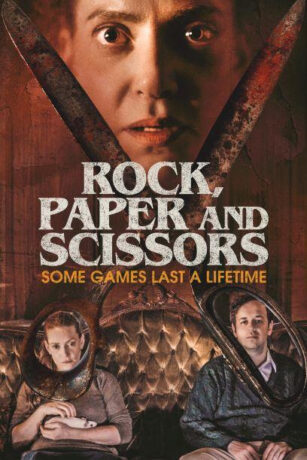 Synopsis
Jesus and Jose Maria are siblings living in a closed-off world constructed of strange games and relentless madness. When their half-sister Magdalena returns home to inquire about her share of their inheritance, a strange and bloody affair ensues.
Directors: Martín Blousson, Macarena García Lenzi
Cast: Agustina Cerviño, Valeria Giorcelli, Pablo Sigal
Genre:  Horror; Thriller; Latino
Release Year: 2021
Rating:  TV-MA
Runtime:  83 min
Language: Spanish w/English Subs


Follow us on twitter: @emmreport,@daddyspalace,@bestallstars,@theferrisbee
instagram @emmreport
Check out: www.loyalfans.com/allstars
www.loyalfans.com/daddyspalace,