Plus-size model, influencer and recording artist Romi Chase is asking fans for their votes for Favorite BBW Performer for the AVN Fan Awards.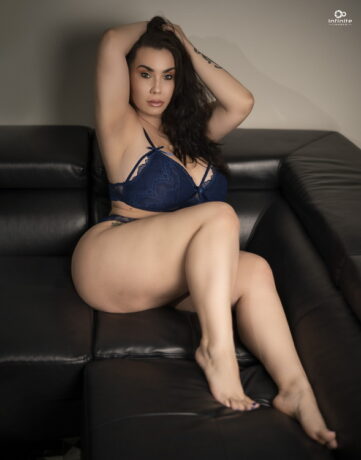 "This has been an incredible year for me, some great "firsts" like my first Romi Chase Kiiroo toy, my real doll and releasing my first original single, Control and now my first AVN Fan Vote nomination," says Romi. "I was so shocked to get this honor and now I want to win! Please vote for and see you at the AVN Awards!"
You may vote for Romi Chase here https://avn.com/awards/voting/favorite-bbw-performer
There is no cost to voting, you may do so daily up until Saturday, January 7, 2023 at 3:00pm PT.
You may listen to "Control" on Spotify here https://open.spotify.com/album/7bQO1MofbbcWKkuqeqZNUk?si=b0ph0DNgQiuf0MB7jp8j6Q&nd=1 and on YouTube here https://youtu.be/hGPQNrGi3YU
You may subscribe to Romi Chase's YouTube channel here https://www.youtube.com/c/RomiChaseworld
You may follow Romi Chase on Twitter at https://twitter.com/romi_chase on Instagram at https://www.instagram.com/romichaseforever/ on Facebook at https://www.facebook.com/romichaseworld
About Romi Chase:
Born in Poland and based in Las Vegas, Romi Chase has been singing since she was six-years-old. Currently, Romi Chase has just launched her first original song written and performed by herself, and wrapped up a performance in front of over one-thousand audience members at the Legendary 'Avalon' in Hollywood, Los Angeles.
She has been a guest on many popular shows such as 50 Cent's Thisis50 Hottest in the Streets, the Breakfast Club host's Angela Yee's Lip Service show, the SDR show hosted by popular comedian Big Jay Oakerson and much more.
Voluptuous brunette beauty Romi Chase is a body-positive plus-size model and cultural influencer living out her dreams as an independent adult content creator. Since her arrival in America in 2016, the budding starlet has been making waves as an exciting new talent on the rise.
The Poland native received her Master's degree in Linguistics, Translation and Teaching Specialization before launching her modeling career in January 2019, posing for fashion, glamor/ boudoir, cosplay and fetish shoots. Chase currently creates her own content for sites such as OnlyFans for her ever-expanding fan base.
Chase, whose daily goal is to "improve myself and step my game up", is proud that she chose modeling as a career mainly "because I wanted to prove to this world that curvy women, BBWs and chubby chicks can OWN their sexuality. There is no shame whatsoever in monetizing your talents, and I love motivating and empowering women of all shapes and sizes to be their very best selves." To learn more about Romi Chase, visit RomiChase.com/my-links.